SlashGear Review: Sprint's new rugged Vision SCP-7050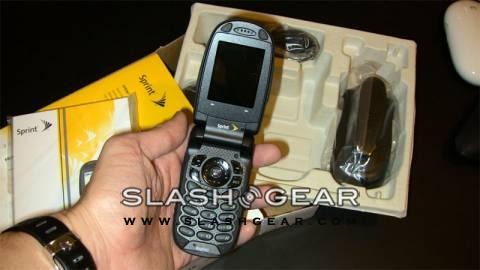 Phones have, over the past ten years, been getting more and more attractive. Unfortunately, the leaps and bounds in product design generally haven't been matched in physical toughness; you either treat your handset with pretty much kid-gloves, or take out expensive phone insurance that covers you in case you sit on/drive over/feed to a dog your precious mobile.
There have been a few rugged phones before, and many more pseudo-rugged who used lashings of rubber and "extreme" case stylings to give an impression of hardiness, but they've often been under-spec'd and just plain ugly. Sprint have obviously heard the plaintive cries of the clumsy and the dangerous, and so today they're launching the Vision Phone SCP-7050; not only is it built to military specification 810F (which means it can withstand shock, vibration and dust) but it has onboard GPS and access to the Sprint Vision service of, amongst other things, internet access and email.
First things first: it's actually a pretty good looking handset. Made by Sanyo, it's obviously not going to be as skinny as a RAZR or have the easily-scratched mirror finish from LG's Shine, but the rubberised coating is pleasant to hold and means the phone generally stays where you put it (even if that's on a dashboard). It feels incredibly well put together, with a solid, sturdy hinge mechanism and tactile, well-delineated keys.
That GPS capability means business applications such as AirClic MP, Comet Tracker by ActSoft Inc., TeleNavtrack and Xora GPS Time Track – all of which use satelite tracking to monitor productivity – can be used, even when the phone is out of Sprint's CDMA coverage. Should the unthinkable happen and you accidentally drop the handset down an open sewer pipe, wireless contact backup means you can quickly restore your phonebook to a new 7050.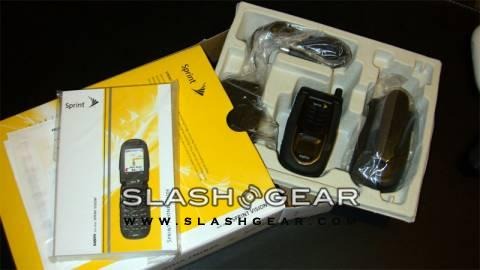 Bluetooth, which can be used to tether the Vision to a laptop and use it as a modem, 4.4hrs talktime and built-in speakerphone round out the specs; the SCP-7050 is available for around $299, or $149 with a two-year contract. It's probably not going to appeal to the same people who flock to the Shine, say, but anyone in the market for a durable and well-featured cellphone should really take a look at the 7050.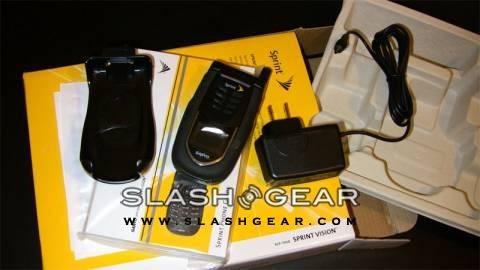 You can check out our full unboxing gallery of the Sprint Vision SCP-7050 here.