SlashGear Review: Philips' VOIP841 dual-mode Skype DECT phone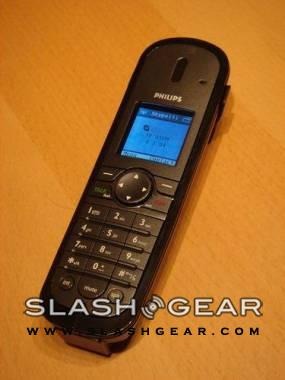 Here at SlashGear we've generally given pretty short shrift to VOIP handsets: all too often they miss the point of their very purpose, to take internet calling out of the realm of the geeky and into the hands of the general public.  Common errors include requiring a USB connection to an attached PC rather than a standalone ethernet hookup, or using WiFi but only supporting unsecured networks which usually means hotspots such as found in Starbucks and elsewhere won't let you log on.  So when Philips asked us to try out their VOIP841, a combination DECT and Skype phone, it seemed only fair to not warn them of our harsh standards and instead see how well the sleek black handset lived up to some high expectations.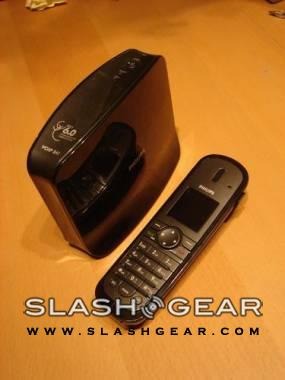 I've given away the first fact about the 841 – that the handset itself is pleasingly attractive.  Finished in two-tone grey and black plastic (which thankfully doesn't pretend to be chrome, aluminium or carbon fibre) it feels solid and nicely weighted.  Buttons are finger-sized and have a certain tactile sponginess that would be hell on, say, a laptop keyboard but here conveys a quiet-touch luxury.  The compact charging cradle is discretely matching in shiny black plastic, with no lights or indicators (whether this is a good thing or bad depends on your stance towards multiple blinking LEDs; personally, the gleeful trill the handset gives when placed properly in the cradle is enough), while the base station – around the size of half a hardback book – is black and grey and has Skype/landline activity indicators and a handset page button.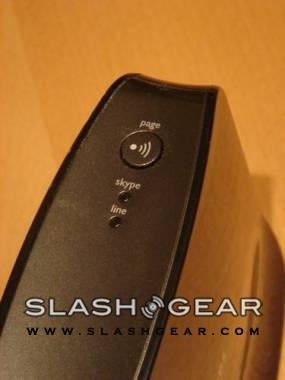 Thankfully when it comes to connectivity Philips have untethered the VOIP841 from the computer, and it instead demands a normal ethernet link to your router as well as power and landline.  Plug in and, after the handset has had time to charge its two rechargeable AAA batteries, turn on and the 65k colour 1.5-inch, 128 x 128 display walks you through setting up a Skype account.  It's a small touch – the temptation must have been to make users register with Skype on their PC and then swap the details to the 841 – but a welcome sign that Philips have thought through the out-of-box experience.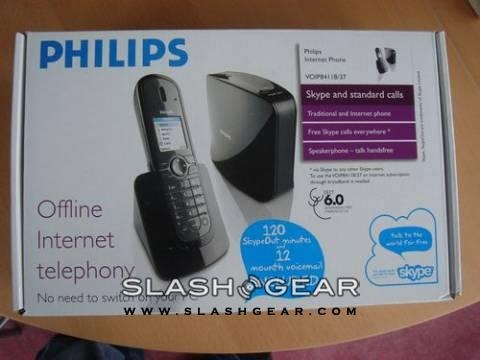 Aside from the phone, base station and cradle, Philips provide a belt clip, all the necessary cables, the rechargeable batteries, a printed quick-start guide and the full user-manual on CD-ROM.  There's nothing to be installed on your PC (or Mac, since the whole thing is platform agnostic), although browsing to the 841's IP address gives a password-protected setup page where you can check network settings, upgrade firmware, create new Skype accounts and log in or out.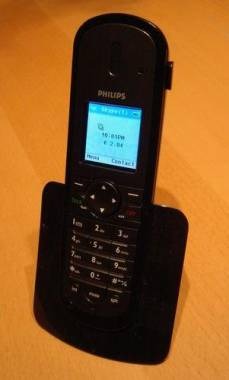 In use, the standby screen constantly shows whether Skype is connected as well as any SkypeOut balance (a voucher for 120 free minutes is included in the box, as is 12 months voicemail subscription) plus the time; pressing up on the D-pad lets you set your online status, pressing down shows a list of incoming/outgoing/missed calls.  Two soft-keys take care of Menu and Contact list, and there's battery and signal strength in the title bar too.
The menu is relatively sparse, consisting primarily of Contacts, History, Status, tools to add contacts, a link to Skype services and Settings for the handset itself.  Skype software updates can be prompted directly or the system left to check automatically (as soon as I turned on for the first time I was asked to upgrade), and ringtones (different for VOIP and landline calls), advanced network settings and voicemail are all set up here.  The handset can be preset to a preferred line (Skype or your landline) so that when you dial and press the green TALK button it automatically connects, or you can leave it blank and be prompted each time.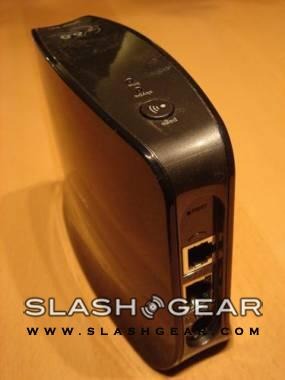 My first attempt at a call was less than stellar.  I had made the somewhat obvious choice to put the base station next to the WiFi router I plugged it into, and this seemingly caused interference between the two.  My wireless connection was fine, but the DECT handset couldn't link up.  Separating the two units fixed the problem, but of course you're limited to how far apart you can put them by the length of the ethernet cable.
Once I'd repositioned, however, all was fine.  Skype calls are, of course, very much dependent on network use at both ends of the conversation, but the transatlantic call I made was of similar quality to the same call made on a landline.  A dedicated speakerphone button makes handsfree conversation simple (unlike my old cordless phone, which hid it in an unmarked button combination and as such the feature was seldom used), as does a mute key, and there's a rubber-covered socket for a wired headset (although Philips don't supply one).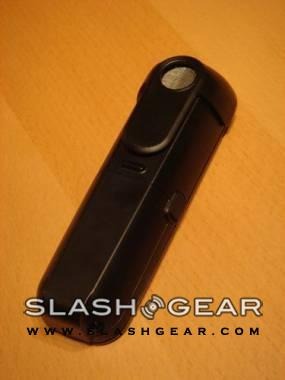 If you have existing DECT handsets you can of course register them with the Philips base station, although they'll only recognise the landline and not the Skype connection.  Buy further 841 handsets, however, and you can use both, as well as transfer calls between and use the system as a home intercom.  Only one Skype account can be used at a time, however, so you couldn't have, say, one for you and one for the kids.
Another frustration is the way contacts are managed.  Adding new people can be done either by entering their Skype name directly or through searching by name or email address; you're given the option to set them as Skype or SkypeOut contacts, but not to call them via the landline.  In fact, there's no provision for "normal" numbers at all, as the 841 relies on your Skype contact list rather than any internal memory.  Less annoying, but tedious all the same, adding contacts is done through a separate menu entry than viewing the contact list; there's no chance to do the former from the latter's options menu.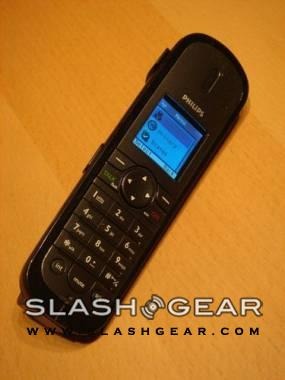 If you think it sounds like I'm nitpicking then you'd be right; generally, the VOIP841 is both useful and straightforward.  No, you can't take it outside of base station range (unlike WiFi-based handsets) but for most home users looking to save some money on long-distance and international calls the opportunity to combine traditional and VOIP in one phone will be good enough reason to buy.  It's undoubtedly an easier setup than messing with WiFi encryption keys, too, being pretty much plug & talk as long as you've a spare ethernet socket.
Does the Philips VOIP841 escape the long-standing SlashGear wrath?  It's a qualified yes, with decent call-quality, technophobe simplicity and common-sense connectivity all counting in its favour.  Less impressive, however, is the MSRP of $199, although of course you can find it for closer to $110 online and additional handsets under $60.  True, you could make quite a few international calls for that, but if you're a regular Skype user and are looking to cut the tie to your PC – or, more importantly perhaps, make the whole thing a lot more user-friendly – then you'll likely find the VOIP841 worth every cent.
Thanks to Philips for sending the VOIP841 for review.