SlashGear hands-on at Microsoft Surface Blogger Day 2: More Video!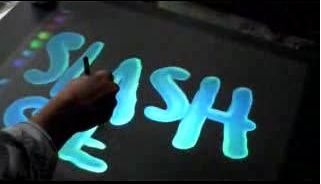 If you read the first part of our Microsoft Surface Blogger Day report, you'll know that SlashGear has been hanging out with the Seattle company's nifty MultiTouch table.  You've hopefully had a chance to watch the videos of Surface in action – exploring cellphone details, playing multi-user games, exploring media and more – and, if you're anything like the rest of us, are getting more and more curious about how Microsoft plan on integrating what they've learnt from the project into Windows 7.Multiple videos from the event after the cut!
We'll have to wait to find out those exact details, but Vincent has been spending more time exploring the app functionality on Surface as well as meeting the team members behind the project.  As we've said before, the system really comes into its own when working with media; the geotagging video and the photo app demo are particularly impressive.
Microsoft are playing their cards close to their chest with regards the upcoming OS, but their enthusiasm for MultiTouch and the sample apps they've been showing speaks volumes about what the software will be able to do.  Vincent tells me he has plenty more video from the event that is currently going through editing and processing, so we'll be bringing you more hands-on footage later.
Previous coverage on Microsoft Surface here.Pete Thompson welcomes bloggers to Surface Blogger Day (apologies for the poor light video on this one):
Microsoft Surface Paint demo:
Surface Photo App demo:
Geotagging demo:
Microsoft Surface Team Members: