SlashGear Exclusive: Hands-on feedback on Sprint's PPC-6800 from HTC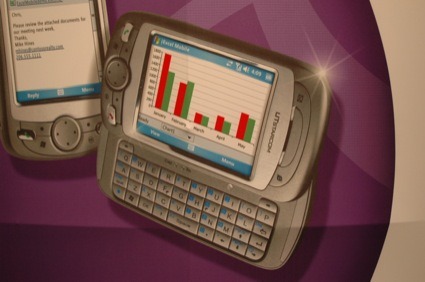 Might my HTC-design vitriol have to be retired? Not only have pictures of their new PPC-6800 smartphone for Sprint emerged, with a noticeable improvement in aesthetics, but thanks to a SlashGear reader we've had a hands-on report of it and it's all starting to sound quite tempting.
Check out our exclusive first-play report after the cut...
Finding themselves in the company of a PPC-6800 for about an hour, first-impressions from our tipster were good. Gone is the stub aerial of its 6700 predecessor, as is 50-percent of the weight. At 30-percent thinner it feels better in the hand, too, with only a very thin and potentially easily-broken back plate to slightly mar it.
A possible disappointment to some, the screen remains QVGA; nonetheless it's super-bright and very readable, and orientation changes from portrait to landscape are far more responsive than the 6700. While the exact under-the-hood specs weren't available, we do know that it comes as standard with 256MB of internal memory and a microSD slot on the base of the handset for expansion. All that memory will be handy for storing photos taken with the 2-megapixel camera, reported as producing shots that "look beautiful". A physical scroll-wheel should go some way to appeasing BlackBerry fanatics.
Sources tell us that while the device will launch on Sprint with the Windows Mobile 5 OS, that will be upgradeable to WM6 in 3rd Quarter 2007; at the same time, Sprint's awesome Ev-Do Rev.A will be enabled for some serious mobile browsing.
Our lucky tipster gives the PPC-6800 a tentative four out of five stars; personally, for the first time I'm actually showing some interest in an HTC handset!
Image via Engadget Mobile