SlashGear Android app updated! Comics, sharing & more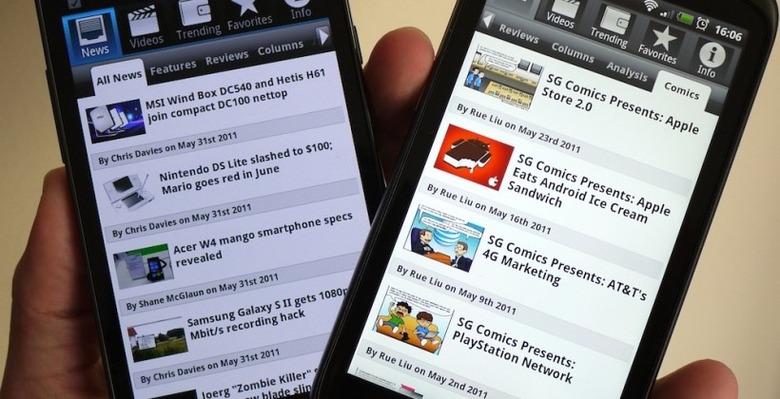 The SlashGear for Android app has been updated, with v1.1 addressing much of the feedback you gave us after the first release back in February. Now with a dedicated section for our popular SG Comics feature, the other big change is that it's easier than ever to share articles, editorials, and videos on your Android smartphone.
Hit the share button in the control bar and you can choose from all the usual sharing methods on your Android phone or tablet: email, Twitter, Facebook, or whatever third-party apps you have installed. As before you can save articles for offline reading, as well as view streaming video over WiFi and 3G connections.
There are some bugfixes (we know some of you were having force-close issues or seeing a blank screen) and various performance tweaks to make the whole app more responsive. Next on the roadmap is a dedicated tablet version for Honeycomb slates like the XOOM and Galaxy Tab 10.1. We'd love any feedback you can give us, either in the comments below or using the Android Market review feature.
You can download the updated SlashGear app for Android from the Android Market (it's free, naturally!) If you're an iOS user, the SlashGear for iPhone and iPad apps are available here, and there's a SlashGear for Windows Phone app available in the Marketplace!