SlashGear 3D HD NBA Giveaway: And the winner is...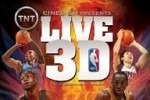 The SlashGear 3D HD NBA Slam Dunk Giveaway is closed, and we have our winner.  We're pleased to say that SlashGear forum member Ctansil24 is the lucky person taking away a family ticket to his nearest Cinedigm 3D HD screening of the Sprite Slam Dunk Contest this Saturday evening.
Although the winner was selected at random, we also asked you what you thought of the contentious 3D Super Bowl adverts and whether you agreed with our own Daniel Lim who was less than impressed.  Ctansil24's entry was:
"I was able to watch the super bowl in 3D and was impressed, I believe the dunk contest will be nothing short of AMAZING. With Dwight Howard throwing down rim-rattling dunks all night the contest should be great. 3D technology made My Bloody Valentine a great show but I think the dunk contest is a great idea!!!"
Hopefully the Cinedgm 3D HD screening this weekend lives up to expectations!  Ctansil24, check your email; everyone else, thanks for entering and we'll see you again for the next SlashGear giveaway. 
Many thanks to Cinedigm for donating the prize for this giveaway.