SlashGear 101: Microsoft OneNote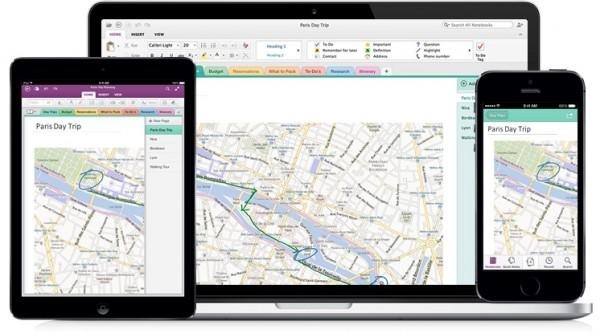 There's no confusing Microsoft's play to be your digital companion: first the OneDrive push, and now a play to make OneNote the de-facto service for digital notetaking. Made free across all platforms this morning, as well as freshly released for Mac users alongside a new partner app campaign, OneNote is now more than just an app but a service spread across desktop, tablet, smartphone, and browser. Confused? Let SlashGear 101 get you up to speed.
So Microsoft wants to take on Evernote now?
Actually, it was the other way around. Evernote first launched in 2008, but OneNote is more than a decade old, released back in 2003. Back then – as Microsoft Office OneNote – it was one of the flagship applications for Windows XP Tablet PC Edition, the special pen-enabled version of XP. There was no Windows Mobile version, however, so mobile users weren't able to take their notes with them.
Unfortunately for OneNote, Microsoft never really gave it the attention it needed to break out of a niche subset of Tablet PC users. Tablets themselves stumbled and the stylus fell from favor, and then Evernote arrived to show how useful cross-platform synchronization can be.
What makes OneNote different from Word?
Primarily it's about flexibility. Word starts from the point of view of a document, and one that you're likely to print out as a physical object. That means constraints in size and scale: you start with, say, the dimensions of a piece of US Letter paper, and your text, charts, and other content is accommodated within those measurements.
OneNote focuses on digital first and foremost; its notes aren't really intended to be printed, and indeed there's no "Print" option in the Mac app, only the ability to export to PDF. That means each note's scale is effectively infinite in both width and length. You could piece together a timeline that keeps running left to right, or a huge grid of screenshot thumbnails broader and longer than any printed page.
Meanwhile, note content – whether text, bulleted or numbered lists, pasted in photos, snippets from webpages, or anything else – can be placed freeform, rather than constraining to paragraphs. OneNote doesn't paginate, so there's none of the annoying "jumping" between pages as new content pushes old into unexpected places. You can overlap, too, adding handwritten annotations to diagrams, or highlighting points of interest on maps.
Can I access OneNote on my tablet?
Originally OneNote was designed to run on a single computer, but Microsoft thankfully left that limitation behind a while back. As of today, there are OneNote versions for PC and Mac, as well as for iPhone and iPad, for Android devices, and for Windows Phone. There's also a browser-based version.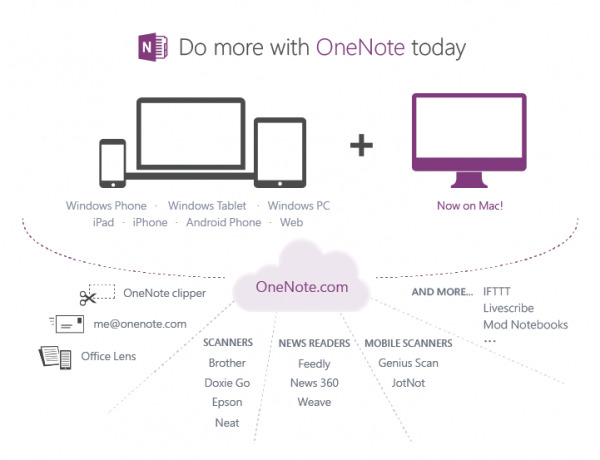 All are free, and Microsoft uses OneDrive as the glue to hold them all together. OneNote takes a different approach to storage allowances compared to Evernote: OneDrive users get 7GB of free space and can transfer as much to and from that from OneNote as they like (more storage is available for a monthly fee). Evernote, in contrast, offers unlimited storage but limits the amount of data transfer each month (60MB per month for free accounts; 1GB for Premium subscribers).
What about third-party functionality?
As well as the Mac version, Microsoft has also announced third-party app support, effectively plugins that allow other services to hook into OneNote data. They range from the simple – like emailing new notes into your notebook from anywhere you can send an emaiil – through to virtual scanners from Epson, Genius, and others.

If you're a Livescribe smartpen user, you can link the digital pen into your OneNote account and have all of your notes not only imported by converted from handwriting to text. Microsoft has its own Office Lens app for Windows Phone, which turns smartphones into OneNote scanners for receipts and business cards.
However, those really interested in integrating OneNote into their overall workflow can link it to IFTTT (If This Then That), and bridge it to many other services ranging from Google Voice, the weather, and Twitter, through to Craigslist and even smart home technology. If you've ever wanted to create a living OneNote log of your front door opening, now you can.
I'm an Evernote user, should I switch?
If you've got a solid Evernote workflow that you're happy with, probably not. However, if you're keen on some of the new OneNote features, particularly its usefulness in mind-mapping and freeform planning, it might be worth transferring over.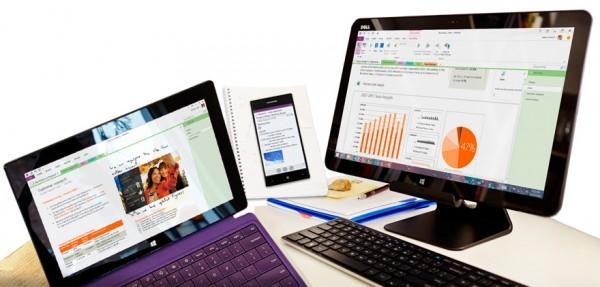 Unfortunately, neither OneNote nor Evernote makes that especially easy. Both can export and import notes as HTML, though our tests found that much of the formatting can get lost along the way. Each also has its own note file format – ENEX in Evernote's case – though they're more for backup purposes, since you can't directly import them into the other app.
Third-party apps, like OneNote Batch, can sit in-between those native formats, but you may still find you lose things like tags, some formatting, layout, and other metadata along the way.
Is the new OneNote enough for you to make Microsoft your digital notetaking companion? Let us know in the comments.