OneNote for Mac launches with new Evernote-challenging tools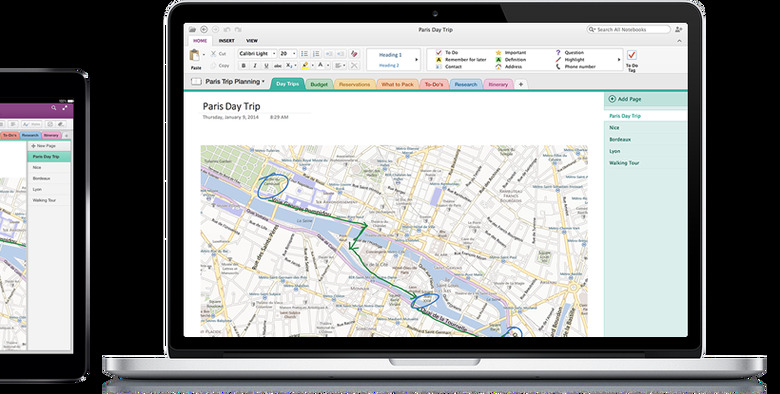 Microsoft has rolled out OneNote for Mac, a free version of its cross-platform notetaking app for OS X, accompanying not only OneNote for iOS on iPhone and iPad, but the apps for Windows, Android, Windows Phone, and the browser. Meanwhile, there are also new tools for avid OneNote users, including a new OneNote Clipper for snapshotting webpages into a note, and an Office Lens app for turning a Windows Phone into a mobile scanner.
OneNote has been around on Windows for years, offering text, image, and handwritten note support among other things. Microsoft added an iOS version for phones and tablets in recent years, but a Mac-specific app has taken a little longer to arrive.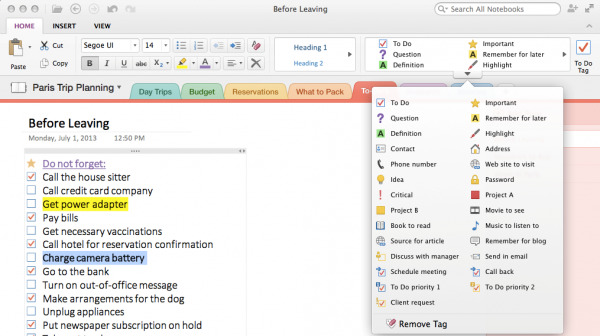 Just as in the Windows version, OneNote for Mac supports multiple notebooks with color-coding, annotation, styling, lists, bullet-points, and more. There's also tagging for easier rediscovery, and search.
Sharing is built-in, using Microsoft's OneDrive cloud storage, with support for group edits on the same notebook. Meanwhile, those notebooks also synchronize across all of the different OneNote apps, regardless of platform.
As for the OneNote Clipper, that adds a new "Clip to OneNote" favorite that snaps an image of the current page to a OneNote folder. Microsoft suggests it'll be useful for those researching holidays or new purchases.
Finally, Office Lens for Windows Phone, a free app which uses a smartphone's camera to import receipts, documents, or other physical items into a OneNote notebook.
Office Lens has three different modes, for whiteboards (with automatic glare and shadow reduction), for documents (with text enhancement), and for photos. There's also support for importing existing photos on the phone. It's a free download from the Windows Phone Store.