Skytone Android Netbook: Just $100?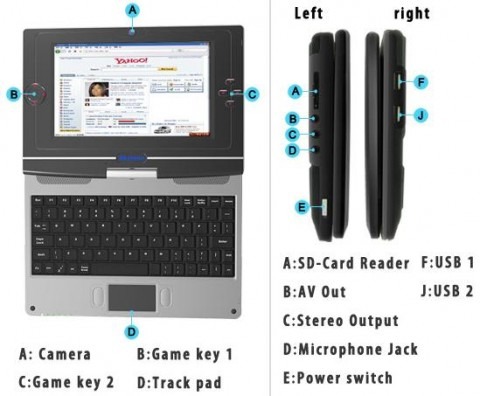 It seems netbook manufacturers are slowly cottoning on that, by slapping Android onto their models, they'll get a pretty-much instant audience.  Certainly, without the Google OS this Skytone Alpha 680 netbook would prompt little but sneers, with its 7-inch 800 x 480 display, 533MHz ARM11 processor and minimalistic 128MB of RAM (max 256MB).
Other (anemic) specs include 1GB of storage space (maximum 4GB), WiFi, 10/100 ethernet, two USB 2.0 ports and an SD/SDHC/MMC card slot.  Skytone also claim optional 3G connectivity, though no word on whether it's integrated or external.  There's also a convertible hinge to rotate the display round for slate-style use; however, while the specifications (which you can read in the gallery below) suggest the Alpha 680 has a "capacitive touchpad", we're thinking that refers to the trackpad beneath the keyboard rather than the full display itself.
That assumption comes in no small part because of the estimated price for the Skytone Alpha 680.  If it reaches the market (and that's probably a big "if") it's said to be priced around $100.  Suddenly all the budget specs make sense; still, we'd rather wait for something more powerful with Android.
[via Android Community]