Skyrim Special Edition trailer released with digital launch info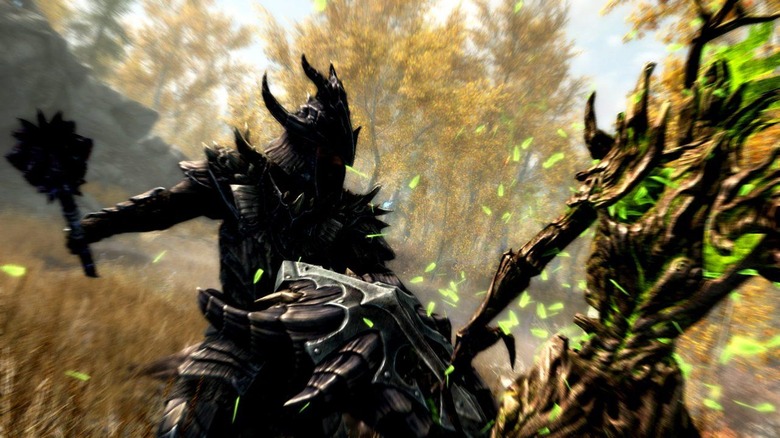 Skyrim Special Edition is just a week away from release, and Bethesda has unleashed a new trailer that shows off some more footage from this enhanced edition. Bethesda's timing is impeccable – with today's releases of Battlefield 1 and Civilization VI, some folks likely forgot that Skyrim Special Edition is nearly upon us. If you're one of those people, consider this your not-so-subtle reminder.
The trailer actually starts off with some comparison footage we've seen before. It isn't long, however, before we're presented with new combat footage that allows us to see Skyrim Enhanced Edition is action. Jeremy Soule's excellent Dragonborn theme plays in the background, doing its part to make this feel as epic as a five-year-old game can be. Check it out below.
If you already know that you're buying Skyrim Special Edition and want to play it from the second it's released, then you're in luck. Bethesda has also updated a post on its blog with the unlock times for the game. Skyrim Special Edition will unlock globally at 12 AM UTC, so when you get access depends on your time zone. Here's when the game will be available for a variety of different regions:
- 5pm Pacific Time (October 27)

- 8pm Eastern Time (October 27)

- 1am British Summer Time (October 28)

- 2am Central European Summer Time (October 28)

- 11am Australian Eastern Time Zone (October 28)

- 1pm New Zealand Time (October 28th)

- 2pm Japan (October 28th)
What's more, Bethesda's update also lists when you'll be able to pre-load a digital copy of the game, assuming you've pre-ordered. Xbox One owners can already pre-load Skyrim Special Edition, while PlayStation 4 players in the US will see the pre-load option unlock at 12 AM Eastern on October 26. Pre-loads will become available for PS4 users in Europe at 12 AM local time on the 26th, while Steam users won't have the option to pre-load.
Even though Steam players are being left out in the cold in this regard, most of those interested in Skyrim Special Edition will also be getting it for free. As long as you own Skyrim and all of its DLC, you're entitled to a free copy of Skyrim Special Edition, which is a pretty solid consolation to not being able to pre-load.
I'm personally excited to see what Skyrim Special Edition looks like on my gaming rig. Seeing as how Skyrim is one of my favorite games, I'm absolutely ready to return to it after a few years. The question now becomes whether or not the improvements found in Skyrim Special Edition are good enough to warrant playing without graphics mods. I'm going to guess the answer to that question is "probably not," but you never know – Bethesda could surprise us with a curve ball.
SOURCE: Bethesda