Those terrifyingly cramped SkyRider airplane seats are back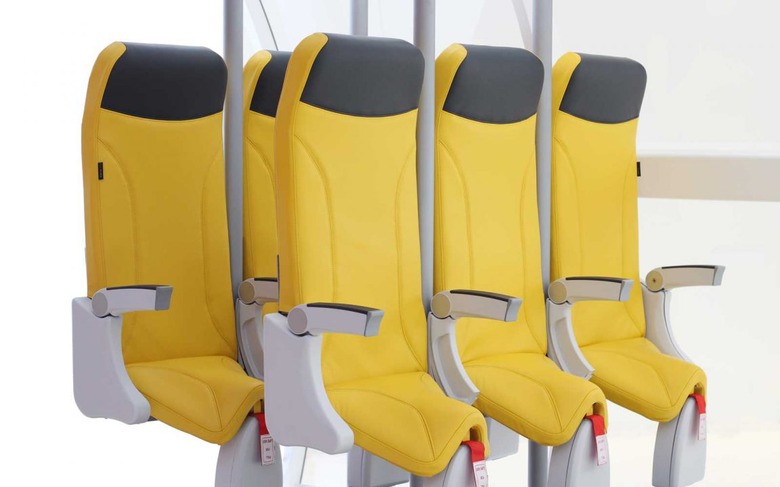 Just when you thought flying in economy couldn't get any worse, airplane seat makers are here to remind you that even being able to sit normally is apparently a privilege not a right. SkyRider, the well-ridiculed, saddle-inspired seat design from 2010 clearly didn't take the hate to heart, as the manufacturers are back with a new – and even more ominous – version.
If you missed the madness the first time around, SkyRider is the handiwork of airplane seat specialist Aviointeriors. An Italian specialist in places to perch on a plane, the company makes everything from economy class seating through to lavish first class "pods" that give you that capsule hotel feeling in the sky. SkyRider, though, was a very different affair.
Aviointeriors' idea was that by borrowing design ideas from the saddles used in horse-riding, passengers could sit more upright and thus require less legroom. The result was SkyRider, a claustrophobia-inspiring set of seats with drooping cushions upon which the passenger would straddle. Sandwiched together, they could achieve a seat pitch of just 23-inches. In contrast, a United Economy seat currently has a 30-inch pitch on a 737-700.
Unsurprisingly the reaction was swift and not at all positive. Aviointeriors carried on making its more traditional seats, and travelers went back to complaining about flight delays and there being insufficient pretzels in each tiny bag.
Now, though, SkyRider 2.0 is here, and Aviointeriors says it's altogether more serious about the design. Shown off at the Aircraft Interiors Expo 2018, the seat now has extra padding and is designed to be more sturdy than the original, and each row now uses two poles to anchor it to the ceiling and floor of the cabin. The 23-inch pitch is the same but, according to Stuck at the Airport, the company now says that unlike the first-generation seats this SkyRider 2.0 "should be able to get certified for airlines."
Any actual deployment would depend on an airline enthusiastic enough about squeezing in passengers and brave enough to withstand the torrent of hate that would undoubtedly ensue. Still, Aviointeriors is upbeat about its seats. They're intended for short haul flights only, the company rep pointed out, and would add to rather than replace even the most basic seats in planes today. As a result, it could bring tickets down to prices "that make travel possible for people who would never otherwise be able to fly."
All well and good, though having seen the gradual progression of airlines toward nickel-and-diming everything that once was included in the cost of a ticket, we wouldn't be surprised if SkyRider 2.0 was merely used to fit more people onto a single plane. Before that ever happens, of course, it'll need to convince safety regulators that the narrow spacing is still sufficient for speedy evacuation, among other factors. Forgive us if we hope that doesn't happen.