SkypeKit SDK promises devs invisible Skype access for apps & hardware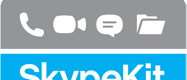 Skype has announced a new SDK, SkypeKit, which will allow developers to embed VoIP and video call functionality into their applications and consumer electronics.  Part of the company's push to get more devices and more people using the service, SkypeKit is described as a "headless" Skype client, "that runs invisibly, not only on PCs, but also TVs, notebooks, and other connected devices."
Developers will initially be charged a "nominal" membership fee of around $20 for access to the SDK, which will be given out on an invitation basis.  Meanwhile the existing Skype API will continue to be supported, primarily useful for those making apps and hardware that works alongside a standalone Skype app.
Initially only a Linux version will be offered, but Skype plan Windows and OS X builds over the next few weeks.  Developers who create apps or hardware using the technology will be allowed to brand their offerings "Plugged Into Skype".  Beta applications can be made here and Skype say they'll be starting SkypeKit access from June 23rd.
[Thanks Tom!]