Skype for iOS updates with Microsoft account login, animated emoticons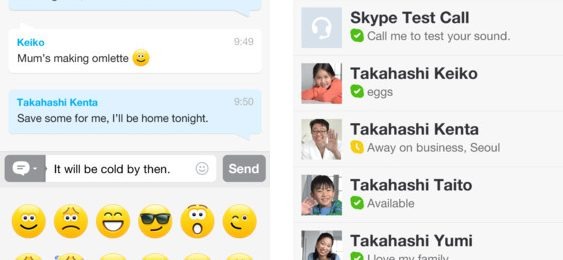 After updating their Android app with Microsoft account login abilities, Skype is doing the same for its iOS app today. The company has issued an update for the app that follows along with their plans to merge Windows Live Messenger with Skype. Along with the Microsoft account login, the app adds animated emoticons and a few other welcomed additions that users will find useful.
Users are now able to login to the Skype app using either their Messenger, Hotmail, or Outlook.com credentials, and then merge their accounts once they're in. Users can also chat with their friends who use any of these Microsoft services straight from Skype, thanks to the integrated Microsoft account support.
If you have an iOS device with a Retina display, you can now also enjoy animated emoticons. We're not sure why Skype limited this new feature to only Retina displays, but if you're using a last-gen iDevice, you're stuck using the inanimate emoticons until you can upgrade, but it's probably not a huge deal for most users.
The updated app also lets you set up a new Skype account from directly within the iOS app. It also allows you to edit instant messages you've sent to your friends by tapping and holding individual messages. And as usual, you'll find that Skype also included a handful of bug fixes and general performance enhancements.
Skype for iOS is a free download, and the new update is available now in the iTunes App Store.