Skype has arrived on Amazon's Echo smart speakers, with Alexa now able to make calls to up to 150 countries and more. The deal was announced back in September, alongside Amazon's huge pre-holiday gush of new smart speakers and other devices, but is only going live today.
Setup should be straightforward. You'll need an Echo device, of course, and a Skype account. From the Alexa app for iOS or Android, head into the Settings page and choose Communication, then Skype. At that point you'll need to log in using your Skype credentials.
Amazon will save a copy of your existing Skype contacts in the cloud, so that you can ask for calls to be placed by voice. If you don't have a contact saved, however, you'll still be able to call them. Saying "Alexa, call XXX-XXX-XXXX on Skype" with the required number will automatically place the call using Microsoft's service.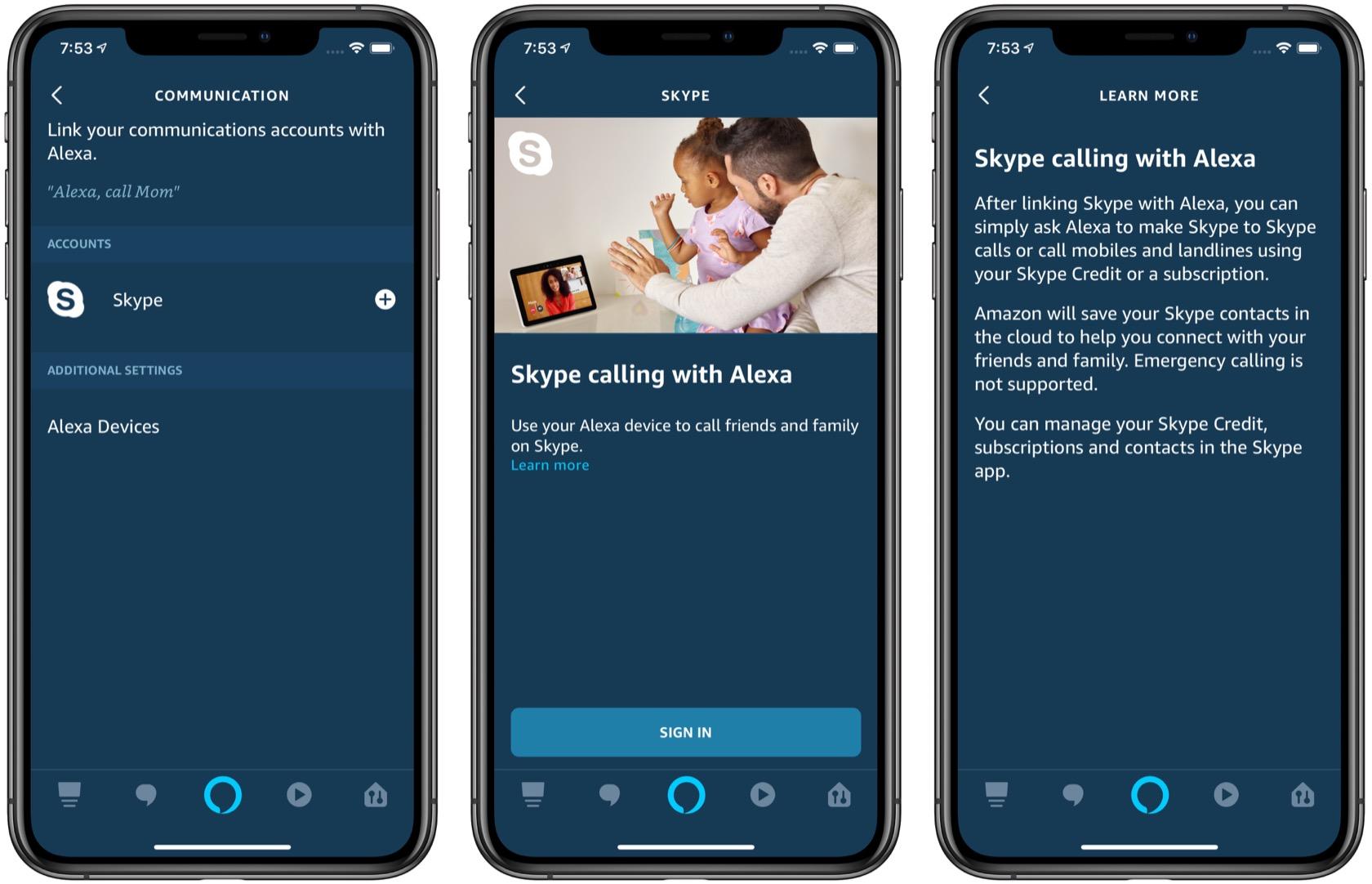 To sweeten the deal, Microsoft is throwing in 100 minutes of free Alexa calls per month, for two months, when users connect their Skype and Alexa accounts together.
Calls can be placed to both the Skype app and mobile and landlines in up to 150 countries. As well as placing calls, Alexa will also be able to receive them. You'll be able to answer them hands-free, by saying "Alexa, answer" and use both voice and video calls if you have an Echo device with a display.
Amazon, of course, has its own calling service for Alexa. Launched in mid-2017, it supports much the same features as Skype does. However, if you already have a Skype account – and Skype calling credit – to use, this new pairing could be more useful.
Skype for Alexa will work on a long list of Echo hardware. The original Echo and Echo 2nd Gen are supported, as are there Echo Plus 1st and 2nd Gen. The Echo Dot 2nd and 3rd Gen can be used, together with the Echo Show 1st and 2nd Gen, and the Echo Spot. If you're still in the market for an Echo of some sort, Amazon's early Black Friday 2018 deals have price cuts across the board.
As for the two months of free Skype calling to mobiles and landlines, you'll need to be in one of 34 countries to take advantage. They include the USA, Canada, China, India (international calling only), United Kingdom, Poland, Indonesia, Germany, Russian Federation, Thailand, Italy, Brazil, Australia, Mexico, France, Japan, Colombia, Bangladesh, Portugal, Nigeria, Argentina, Spain, Slovakia (Slovak Republic), New Zealand, Taiwan, Vietnam, Philippines, Switzerland, South Korea, Denmark, Austria, Ireland, Singapore, and Greece.