Skype could shut down over licensing threat, claims eBay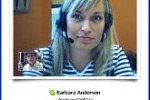 Never one for understatement or avoiding mass-panic, eBay have thrown the legal cat among the VoIP pigeons by claiming it may have to shut down Skype.  The threat comes as Skype founders Niklas Zennstrom and Janus Friis – who sold Skype to eBay for $2.6bn back in 2005 – have revoked the licensing agreement for the core P2P software that the VoIP software relies on. 
eBay is apparently developing new P2P software so as to be free from licensing Zennstrom and Friis' company Joltid, but have warned that they may not be able to roll that out as soon as may be required.  In that case, Skype would have to be shut down, leaving 480 million registered users without VoIP service.
Even if the auction giant can piece together an alternative P2P system for the app, it will inevitably break backward-compatibility with existing Skype software and, potentially, devices.  It will also be an expensive endeavor, and eBay warn that the replacement "may result in loss of functionality or customers even if successful".
Joltid, for their part, accused eBay of possessing, using or modifying "certain software source code" together with disclosing said-code in US patent cases.  In doing so, they allege, eBay breached their licensing agreement.
[via Slashdot]