Skylanders Battlecast puts a new spin on "toys to life"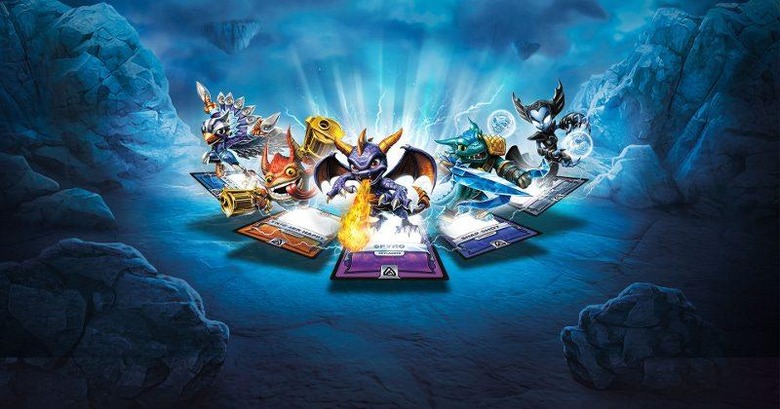 We may receive a commission on purchases made from links.
Disney has practically quit the so-called "toys to life" market, a niche practically occupied by Disney's Infinity, Nintendo's Amiibo, and Activition's Skylanders. While Activision isn't throwing in the towel just yet, and Nintendo being its usual quiet self, the game publisher is trying out a new way to bridge digital and physical toys together, sprinkling a dash of augmented reality even. Skylanders Battlecast is a free-to-play card game that tries to combine the best of purely digital card games like Hearthstone with that of physical ones like Magic: The Gathering.
Skylanders Battlecast plays completely in the digital, mobile world, pretty much like Hearthstone, which Activision, of course, owns through Blizzard. At launch, there are an initial batch of 300 cards, ranging from spells to gear to relics. And many of those cards feature characters familiar to Skylanders players and collectors. While you can battle it out with other players in online multiplayer PvP matches, the games also offers 60 missions to enjoy in a single player campaign.
That's pretty standard for such card games, but Battlecast diverges a bit when it comes to the "card collecting" part of the equation. While you can indeed acquire cards digitally, you can also buy them in physical format, like Magic, Pokemon, and other real-world card games that still have a hold in that market. Getting those physical cards into the digital realm is as simple as scanning them with your smartphone, where a bit of augmented reality animation and effects play to your delight.
It's a bit of an oversimplified description of the game mechanics, as there are definitely nuances that keep it distinct from the likes of Hearthstone or Magic. Almost like a MOBA game, players choose only three champions to use in a battle, but you can only have one active at a time. The rest of the game involves attaching items and spells to that hero in order to take the enemy out. Heroes can be swapped and even level up during the match, again like a MOBA game.
It is admittedly an interesting twist to the "toys to life" genre, where physical toys are more or less essential to actually getting into the game. One can perhaps play Skylanders Battlecast without buying a single physical card (though you can, of course, buy them in-game). Activision is perhaps banking on the same compulsion card collectors have in keeping a physical representation of their favorite cards. That said, the digital card collecting and battling market isn't without its uncertainties. Mojang's Scrolls already closed up shop and, while Hearthstone still enjoys the lion's share, only time can tell if it will remain relevant in a year or two. At least Activision has a sot of Plan B.
Skylanders Battlecast is available for free on iTunes App Store, Google Play Store, and Amazon Appstore. Card prices range from $8 for boosters and $10 for battle packs.