SkyDrive For Xbox 360 Lands Today Plus 40+ Apps Before Spring 2013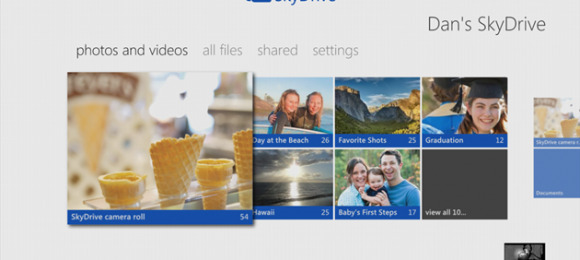 SkyDrive arrives on Xbox 360 today, Microsoft has confirmed, focusing on multimedia sharing as the company teases a gush of more than forty new apps for the console in 2013. While it's possible to browse all the files in your SkyDrive storage on the console, the default view is "Photos and Videos" which automatically pulls in photos taken on your Windows Phone for easier review.
There's also quick access to sharing, both those images and videos you've taken and want to show friends and family, and whatever content others have shared with you. Microsoft has added in a "party slide show" mode to play in the background, complete with themed images and a musical soundtrack.
SkyDrive for Xbox 360 also works with Kinect, for both voice control and gestures; if you don't have Microsoft's motion-control bar, you can use a regular controller or a remote. You'll find the SkyDrive app under "Social" in the Apps category later today.
However, SkyDrive isn't the only news for Xbox owners today. Microsoft's Major Nelson confirms that there are more than forty new apps coming to the console between now and spring 2013, including TV and music streaming, home shopping, and more. Availability will depend on location, but today will see CinemaNow hit Canada, Karaoke arrive in all LIVE regions except Japan and UAW, Napster in Germany and the UK, and Maxim in the US, among others.
In the pipeline, the list includes:
1. All3M (United Kingdom, United States)

2. Ameba TV (Canada, United States)

3. ARTE (Germany, France)

4. Azteca (Mexico)

5. Canalplay Infinity (France)

6. CBC's Hockey Night (Canada)

7. CrunchyRoll (Majority of LIVE Regions)

8. Deezer (Majority of LIVE Regions)

9. Eredivisie Live (Netherlands)

10. Fightbox (Austria, Germany, Spain, France, Ireland, Italy, Sweden, United Kingdom)

11. Flixster (United States)

12. GameTrailers (Australia, Canada, Germany, Spain, France, Italy, Japan, Mexico, United Kingdom, United States)

13. Globosat Muu (Brazil)

14. Gulli Replay (France)

15. HBO Nordics (Denmark, Finland, Norway, Sweden)

16. IndieFlix (Australia, Canada, Ireland, New Zealand, United Kingdom, United States)

17. Livesport.tv (Austria, Belgium, Germany, Denmark, Spain, Finland, France, Ireland, Italy, Netherlands, Norway, New Zealand, Sweden, United Kingdom)

18. Machinima (Majority of LIVE Regions)

19. Maxim (United States)

20. MTV (United States)

21. MyTF1 (France)

22. MyTF1VOD (France)

23. Napster (Germany, United Kingdom)

24. Pathe Thuis (Netherlands)

25. PBS (United States)

26. PopcornFlix (United States)

27. Rai TV (Italy)

28. Sainsbury (United Kingdom)

29. Saraiva (Brazil)

30. SBS (Netherlands)

31. SF Anytime (Denmark, Finland, Norway, Sweden)

32. Slacker Radio (Canada, United States)

33. SPORT1 (Austria, Germany)

34. The CW Network (United States)

35. Televisa (Mexico)

36. TV3 (Spain)

37. Viaplay (Denmark, Finland, Norway, Sweden)

38. Vidéo à la Demande d'Orange (France)

39. Vimeo (United States)

40. VIVO Play (Brazil)

41. Watchever (Austria, Germany)

42. Zattoo (Germany)

43. Ziggo (Netherlands)