Skifta promises easy DLNA media-shifting [Video]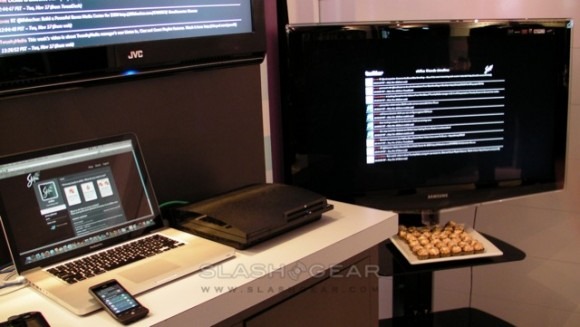 One of Qualcomm's more low-key demonstrations from today is actually the one thing you can try most readily yourself.  Skifta aims to make media shifting more straightforward, using a single client PC or Mac that can then be accessed by any DLNA and UPnP client in your home or remotely.  The system works using a simple web-based interface which will work on your desktop or cellphone browser (the Skifta team had an HTC Hero on hand to do just that), and then that content from pretty much any DLNA device gets funnelled around.
Video demo after the cut
Now, that needn't mean that all of your media is on the client computer, since Skifta can also query photos, video and audio from NAS drives, temporarily plugged-in USB sticks and PMPs.  The web side is hosted on Amazon S3, while Qualcomm have also used a plugin system to allow developers to add more functionality.  They themselves came up with a simple Twitter plugin, which allows you to watch tweets on a TV, for instance.  Future plugins might incorporate subscription-based streaming media services, such as Spotify.
It's indecently straightforward to flip content between screens – including sharing your content (DRM-free, of course) with friends – and an increasing number of gadgets are supporting DLNA.  Right now Qualcomm claim to be not thinking so much about monetization as simply getting the technology out there, but we reckon they'll likely be thinking of licensing out the IP to home entertainment device manufacturers as a set standard.  You can download Skifta free and give it a try; let us know in the comments how you get on.