Six Flags launches another VR experience for its rollercoasters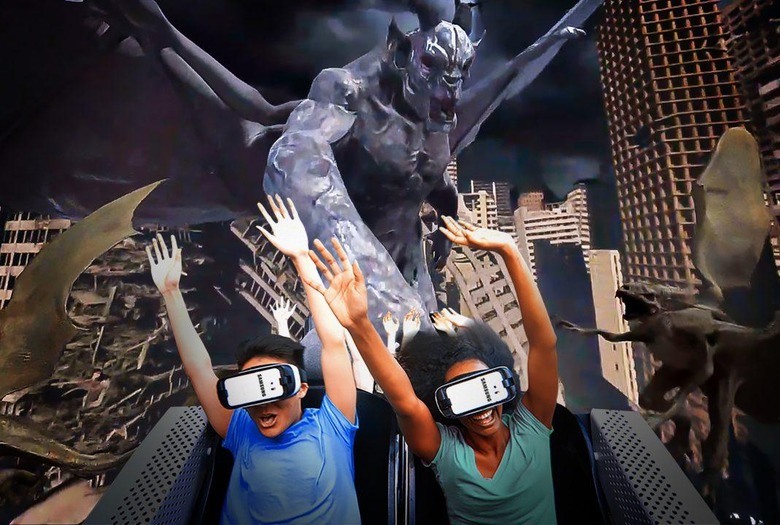 Back in March, Six Flags
plans to offer virtual reality experiences on its real-life rollercoasters this summer, something it followed through with and is now expanding. In a statement today, the company announced the launch of another rollercoaster VR experience, this one called "Rage of the Gargoyles." The VR experience involves wearing a Samsung Gear VR headset while riding the rollercoaster, providing all the thrills of a real ride with the mystique and wonder of a fantasy world.
According to Six Flags, its guests have really enjoyed the existing VR rollercoaster experience — the company describes their reception of them as being 'outstanding' — and therefore it is refreshing things with a new storyline and scenery. Speaking about it, company President and CEO John Duffey said, "Just like the Superman and New Revolution VR Coasters currently operating in nine of our parks, Rage of the Gargoyles will be another first for our guests."
Samsung has partnered with Six Flags as part of this effort, and in doing so many consumers are experiencing VR for the first time on its own headset, perhaps making them more inclined to pick up a model of their own. The Gear VR requires certain newer Galaxy and Note smartphones to operate, though, unlike the Oculus Rift and competing VR headsets.
As for the new experience itself, Rage of the Gargoyles is described as putting riders in the hot seat of an Apache-esque helicopter. The city they see around them is bleak — "devastated" is the word Six Flags uses — and there are winged gargoyles terrorizing the people. The gargoyles are seemingly attacking the riders' helicopters while those riders battle it out, shooting virtual guns at the creatures. All the while, the rollercoaster takes them on a tour of the devastated city.
Six Flags will be launching the new experience on the following rollercoasters in cities around the nation:
Demon at Six Flags Great America near Chicago;

Skull Mountain at Six Flags Great Adventure in Jackson, New Jersey;

Shock Wave at Six Flags Over Texas in Arlington;

Kong at Six Flags Discovery Kingdom near San Francisco;

Dare Devil Dive at Six Flags Over Georgia outside of Atlanta;

Goliath at La Ronde in Montreal;

Ninja at Six Flags St. Louis in Eureka; and

Steamin' Demon at The Great Escape in Lake George, New York.