Six Flags adds VR experiences to its (real) rollercoasters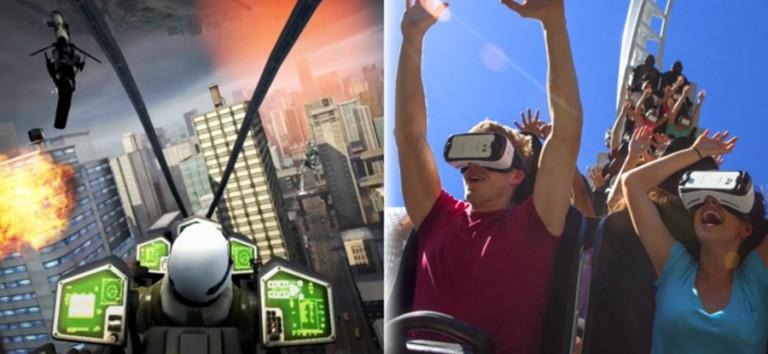 Cedar Point may have a rollercoaster VR app, but Six Flags will soon have rollercoasters with VR headsets...Samsung Gear VR headsets, to be precise. The South Korean company has announced a partnership with Six Flags that will result in nine of the latter company's parks launching the first U.S. rollercoasters with virtual reality experiences. Riders will don a Gear VR headset and experience the (physical) coasters while seeing a couple adventurous virtual worlds.
The VR coaster experiences will be coming to several Six Flags coasters starting in March, and they'll carry on into the summer. A total of nine rollercoasters in the United States will be covered, with half a dozen of them getting the "New Revolution Virtual Reality Coasters" experience, which puts riders in the middle of a 'futuristic battle to save the planet earth from an alien invasion.' Those rollercoasters and locations will be the following:
Shock Wave at Six Flags Over Texas in Arlington, opening March 10 to Season Pass Holders as a special sneak preview

Dare Devil Dive at Six Flags Over Georgia outside of Atlanta, opening March 12 to Season Pass Holders as a special sneak preview

The New Revolution at Six Flags Magic Mountain near Los Angeles, opening March 26 to Season Pass Holders as a special sneak preview

Ninja at Six Flags St. Louis in Eureka

Steamin' Demon at The Great Escape in Lake George, New York

Goliath at La Ronde in Montreal
The remaining three rollercoasters will be getting the "SUPERMAN Virtual Reality Coasters" experience, which takes riders to Metropolis via a Lex Corp Sky Tours city tour. They'll get to see Lex Bots and Lex Luthor and the chaos they cause together. This experience will be on the following coasters:
SUPERMAN Krypton Coaster at Six Flags Fiesta Texas in San Antonio

SUPERMAN The Ride at Six Flags New England in Agawam, Massachusetts

SUPERMAN Ride of Steel at Six Flags America in Upper Marlboro, Maryland
Said Six Flags President John Duffey:
This remarkable technology is a definite game-changer for theme park rides and represents everything our brand stands for—delivering the most thrilling and innovative rides and attractions in the world. With the addition of these virtual reality coasters, Six Flags will be introducing more than double the number of new coasters and rides than we did in 2015, and more than any year in the last decade. Innovation is part of our DNA, and news in every park every year is driving higher guest satisfaction and building strong momentum for our company.