SiriusXM buys Automatic to go deeper into your connected car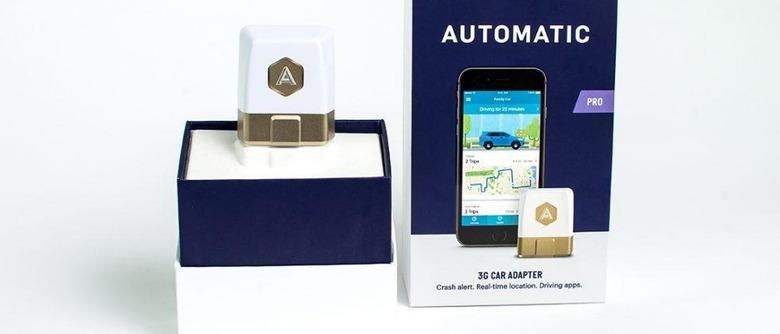 SiriusXM has acquired Automatic, makers of a wireless adapter that plugs in under your dashboard and pipes car information directly to your smartphone. The news, announced today, sees SiriusXM extend its reach from the infotainment system, where it has built a reputation for satellite radio and connected services. With the addition of Automatic, it'll be able to pull even greater information from vehicles than currently.
One of the first companies to try to take the OBD-II dongle mainstream, Automatic currently offers two devices: Automatic Pro and Automatic Lite. Both plug into the OBD-II or vehicle diagnostic port, which regulators have mandated must be present on production vehicles since 1996. Though most drivers don't even know it's there, its presence opened up a whole new category of car tech.
Although initially intended as a way to level the field for third-party repair centers and technicians, OBD-II's direct link to the car's systems suddenly became a huge potential source of data for other companies and services. Automatic, for instance, uses it to pull out greater information on diagnostic alerts, helping to decode the "engine warning light" on the dashboard, as well as tracking fuel levels. It can also be used to track a vehicle in real-time, allowing parents to keep track of teen drivers, or the car to send out a warning alert in the case of an accident.
Since those early features, however, a new way to monetize driving data and location has opened up. Automatic works with insurance companies, offering drivers discounts on their coverage if they only drive sporadically.
It's that rich potential data that likely drew SiriusXM's attention. Though the company does offer data services to automakers – including traffic information – in addition to its satellite radio, the relationship is fairly one-way. With a link into the car's underlying systems, it'll gain instant access to a wealth of diagnostic and driver pattern tools.
NOW READ: 4 gadgets to make your older car smarter
"The acquisition of Automatic is a natural fit for SiriusXM as we continue to expand and improve our connected vehicle services," Jim Meyer, CEO at SiriusXM, said of the news. "Automatic's innovative products have brought safety and intelligence data and analytics to the forefront of vehicle connectivity."
The deal closed in the second quarter of 2017, though financial terms have not been disclosed. Automatic will continue to operate its own brand, as well as its own products and services.