Sirius XM Snap Brings Satellite Radio to Your Car's FM Radio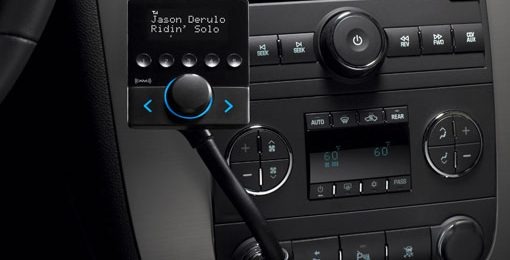 Satellite radio is still around, and enjoyed by thousands. For Sirius XM, introducing new hardware isn't something worth focusing on all that much, but that's not stopping them from introducing a brand new piece of tech for all of those out there who may not have a vehicle featuring satellite radio pre-installed. The company labels it as a quick, easy, and simplistic method to get your ears focused on some satellite radio. All you need is an FM radio, cigarette adapter, and the new XM Snap! (which was recently seen at the FCC) and you'll be good to go.
Unfortunately, the press release is pretty thin on the details. From what we can tell, all you need to do is plug the XM Snap! unit into your cigarette adapter, find a station on your FM radio that's free to use (meaning, not already playing music and preferably not filled with static), and then adjust your XM Snap! to the right station. From there, you should be listening to your favorite satellite radio stations.
Of course, you'll also need a Sirius XM subscription. The company says that the XM Snap! will drop into retail outlets beginning in October, and should have a retail price tag of about $59.99. Is this going to be the hot ticket on your holiday shopping list?
Press Release
SIRIUS XM RADIO INTRODUCES "XM SNAP!," THE EASY-TO-USE, ANYWHERE-YOU-DRIVE SATELLITE RADIO
Latest satellite radio is a snap to install, a snap to set up, and a snap to use
NEW YORK – September 30, 2010 /PRNewswire/ – SIRIUS XM Radio (NASDAQ: SIRI) announced today the introduction of XM Snap!, an easy to install, set up and use satellite radio for the vehicle.
XM Snap! will be available at retail nationwide and www.shop.xmradio.com in October 2010 for $59.99.
"XM Snap! is an attractive, easy-to-use radio that makes it easier than ever for more consumers to bring satellite radio into their vehicles," said Bob Law, Group Vice President and General Manager, After Market Division, SIRIUS XM Radio. "Offering amazing value, the new XM Snap! also gives customers the opportunity to discover what makes SIRIUS XM the ultimate destination for the best in audio entertainment."
XM Snap! comes with everything you need to listen to XM in the vehicle. Just plug it into the vehicle cigarette lighter or power adapter socket, connect the antenna and listen to XM through the existing vehicle radio with simple, do-it-yourself installation. The fully adjustable stalk allows for convenient placement in the vehicle, easy access to the radio controls and clear view of the high-contrast display. The simple controls make it a snap to use – the large arrow keys navigate through categories, the rotary knob changes channels, and the preset keys store favorite channels for one-touch access. Accessories include the Magnetic Mount Antenna and an Aux-In Cable to facilitate Aux-In connections in vehicles that support this capability.
XM Snap! delivers all channels currently available on XM, including commercial-free music from every genre, featuring a broad array of 24/7 artist-branded music channels such as The Grateful Dead Channel, Eminem's Shade 45, Jimmy Buffett's Radio Margaritaville, "Little Steven" Van Zandt's Underground Garage and Outlaw Country channels, B.B. King's Bluesville, Willie Nelson's Willie's Place, Elvis® Radio and Siriusly Sinatra; music channels playing all the hits from the '40s to today; every Major League Baseball® game, play-by-play from the NHL® and NBA, PGA TOUR® events, auto racing, college sports and 24/7 Fantasy Sports Radio; the biggest names in entertainment, including Oprah Winfrey, Rosie O'Donnell, Barbara Walters, Jamie Foxx, Bob Edwards, and Opie & Anthony; news from Fox News, CNN, CNBC and the BBC; comedy and kids' programming.
Customers can add the "Best of SIRIUS" to receive Howard Stern and his two channels, Martha Stewart Living Radio, every NFL game and NASCAR race, and Playboy Radio.
For more information on SIRIUS XM Radio, please visit www.siriusxm.com.