Sirius XM reveal XM SkyDock iPhone and iPod touch satellite radio system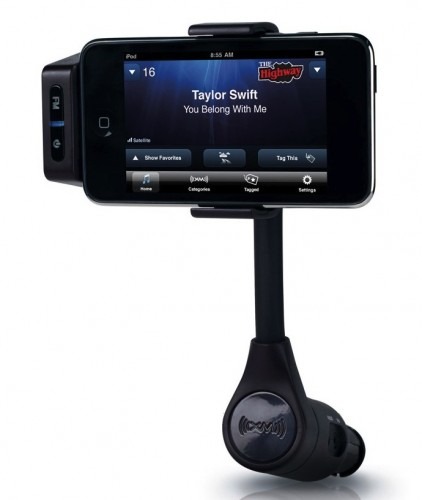 Sirius XM have announced their first radio dock for Apple's iPhone and iPod touch, the XM SkyDock taking advantage of OS 3.0's third-party peripheral integration to add a satellite radio tuner to the handheld and have it controlled by the new companion app.  The dock slots into a car's power point, supporting the PMP with a flexible arm and custom cradle, and not only allows for listening to Sirius XM radio but for tagging tracks that you later want to buy on iTunes.
Both portrait and landscape screen orientations are supported, and there's also a line-in port and a magnetic-mount antenna.  Both first and second generation iPod touch models are supported, together with all three versions of iPhone – original, 3G and 3GS – as long as each is running iPhone OS 3.0.
The XM SkyDock will be available in fall 2009, priced at $119.99, while the accompanying software will be released at the same time through the App Store.  You'll obviously also need a subscription to Sirius XM radio.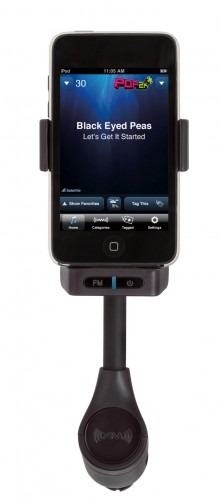 Press Release:
SIRIUS XM RADIO INTRODUCES THE FIRST DEVICE TO RECEIVE LIVE SATELLITE RADIO CONTROLLED BY THE iPOD TOUCH AND iPHONE

XM SkyDock allows customers to enjoy live XM and "The Best of SIRIUS" in their vehicles using the iPod touch or iPhone

NEW YORK–August 26, 2009–SIRIUS XM Radio (NASDAQ: SIRI) today introduced XM SkyDock, the first satellite radio controlled by an iPod touch or iPhone. The XM SkyDock is also one of the first products to take advantage of the new hardware control capabilities of iPhone OS 3.0.

Designed for easy use through the existing vehicle audio system, SkyDock has a built-in XM tuner controlled by a free App that users download from the App Store. The App allows control of the XM tuner using the capabilities of the iPod touch or iPhone Multi-Touch user interface. SkyDock will also charge iPod touch and iPhone devices while listening to live satellite radio.

"XM SkyDock will allow millions of users to add live SIRIUS XM Radio capability to their iPod touch or iPhone while in their vehicle," said Bob Law, Group Vice President and General Manager, After Market Division, SIRIUS XM Radio. "XM SkyDock makes their favorite programming from XM and 'The Best of SIRIUS' available to iPod touch and iPhone users anywhere they drive, coast to coast."

Listeners can use their iPod touch and iPhone to listen to all their favorite sports, talk, news, entertainment and commercial-free music programming, including Oprah Radio, MLB Home Plate, the PGA TOUR Network, Opie & Anthony, Bob Edwards, Jamie Foxx and Blue Collar Comedy. For the first time, subscribers can also listen to the complete "Best of SIRIUS" package, including Howard Stern and his two 24/7 channels, Martha Stewart Living Radio, SIRIUS NASCAR Radio, sports play-by-play and the Playboy Radio channel, all controlled by the iPod touch and iPhone.

Listeners can also tag songs they hear on XM's music channels for later purchase from the iTunes Store–including songs on XM's 24/7 artist branded commercial-free channels such as Jimmy Buffett's Radio Margaritaville, Elvis Radio, Eminem's Shade 45, The Grateful Dead Channel, B.B. King's Bluesville, Willie Nelson's Willie's Place, Siriusly Sinatra and Bruce Springsteen's E Street Radio. Other features include game alerts and sports ticker, artist and song alerts as well as a stock ticker.

The XM SkyDock is a perfect companion to the SIRIUS XM Premium Online App, which allows subscribers to receive SIRIUS XM's Premium Internet service on their iPhone and iPod touch when they are out of the vehicle and on-the-go, at home, or at the office.

XM SkyDock comes with SIRIUS XM's patent-pending PowerConnect technology, which simplifies Do-It-Yourself vehicle installation, working through the existing vehicle radio and making it easy to move from vehicle to vehicle. An Aux In Cable is a standard in-box accessory to facilitate Aux In connections in vehicles with Aux In capability. SkyDock's flexible stalk optimizes the iPod touch or iPhone placement in the vehicle. Customers can view the touch-screen interface in portrait or landscape modes. Accessories include Magnetic Mount Antenna and spacers to accommodate the various iPod touch and iPhone product generations.

XM SkyDock is compatible with iPod touch (1st generation), iPod touch (2nd generation), iPhone, iPhone 3G and iPhone 3GS. All models require iPhone OS 3.0 or later.

XM SkyDock will be sold in stores and will also be available at www.shop.xmradio.com with an MSRP $119.99 in fall 2009. The XM SkyDock App will be available at the same time.

This device has been granted preliminary approval by the Federal Communications Commission but is still undergoing evaluation by the Commission.

For more information on XM, please visit www.xmradio.com