SiRFstarIV GSD4e chip promises always-on, super-frugal GPS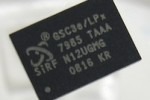 If you're tired of sluggish GPS acquisition times, truncated battery life while navigating and PND apps that mistakenly think you're two blocks away from where you're actually standing, it's worth getting excited about CSR's SiRFstarIV GSD4e GPS location processor.  Based on the company's latest SiRFstarIV technology, the GSD4e has its own, dedicated CPU which allows it to maintain a positional lock while keeping power requirements minimal; that, says CSR, makes it ideal for digital cameras, handheld consoles, wearable electronics and other portable devices.
Now, to be fair most of the technological talk in the press release below is pretty obtuse for the casual man, woman or tech blogger on the street, but the important aspect is this: because the GSD4e uses its own, low-power processor to maintain a positioning fix while sipping only the smallest amount of battery life, you can very quickly get geo-location data without paying the usual tithe in shortened runtimes.  In a digital camera, say, you could geotag your photos without having to wait for a regular GPS chip to power up and get its fix.
Alternatively, wearable electronics could constantly be location-aware without requiring six car batteries strapped to your back.  The GSD4e is also twice as accurate as previous GPS chips, supports a broader range of external sensors such as accelerometers, and handles potential sources of interference better.  If that all sounds like A Good Thing to you, then you'll be pleased to hear that a production-quantity release is expected in Q1 2010.
Press Release:
CSR Unveils Newest SiRFstarIV Family Member

GSD4e GPS Location Processor with Built-in CPU Ensures Quick Time to Market for Broad Range of Location-Aware Consumer Devices

LOCATION 2.0 SUMMIT, SAN DIEGO, Calif., October 8, 2009 – CSR plc., a leading provider of GPS-powered location platforms, today introduced the SiRFstarIV™ GSD4e GPS location processor, the newest member of the recently launched SiRFstarIV architecture, an innovation that promises to redefine the meaning of "location awareness" for mobile devices. Building upon the SiRFstarIV architecture's high-performance and micro-power capabilities, the GSD4e adds a built-in CPU and innovations such as SiRFGeoRecov™ technology that are optimized to ensure continuous location awareness in a new breed of digital cameras, portable game consoles, wearable platforms and other consumer devices, without loading the host processor.

"Adding the GSD4e to our SiRFstarIV portfolio gives our customers the choice of both plug-in and host-based implementations of our breakthrough location awareness technology for greater flexibility in creating a variety of geo-aware mobile devices, furthering our vision of making location truly a part of everyday life." said Kanwar Chadha, chief marketing officer for CSR and founder of SiRF. "And because it has a built-in processor, the GSD4e makes it easy to quickly integrate location awareness into existing platforms, enables development of innovative modules and products with customizable differentiation and provides our extensive SiRFstarIII™ customer community with a seamless upgrade path."

Leading module vendors worldwide, including Vincotech, Navman Wireless, Kyocera, Mitsumi and SEMCO, are designing modules with the GSD4e in Q4 2009, accelerating time to market for SiRFstarIV-enabled consumer products.

The GSD4e's innovative adaptive accuracy and SiRFGeoRecov technologies make it possible to instantly geo-tag images or videos with a camera or camcorder and improve the accuracy as better GPS information becomes available. It also enables people to locate social networking friends on a smartphone, track a jogging course with a wearable device, perform location-based searches with a laptop or netbook or find their way through buildings and urban canyons with a pedestrian navigation system. And it can do all these things in everyday environments, and in many cases even if the device has been turned off for weeks or months. Unlike other GPS solutions on the market today that many times fail to provide any location fix at all, the GSD4e ensures that devices are on the "location grid," even in extremely low signal conditions. And the GSD4e's sophisticated motion-sensing algorithms ensure advanced power management and stable, accurate positioning, even when standing still.

Much broader in applicability, easier to design and more flexible than host-based architectures, the GSD4e is a complete position-velocity-time (PVT) solution. It not only opens the door to a new class of location-aware consumer devices, but also raises the performance bar in the traditional GPS engine market for smartphones, GPS modules, multi-radio modules and similar applications. The GSD4e can navigate to -160 dBm and track to -163 dBm, and for smartphone customers the GSD4e offers an extraordinary 7.5-dB 3GPP pass margin and high E911 sensitivity to ensure success in virtually any handset design. It also offers a fully certified A-GPS protocol stack with quick drop-in to multiple smartphone operating systems. The GSD4e consumes only 8 mW in 1-Hz TricklePower mode, and can maintain hot-start conditions continuously in SiRFaware mode while drawing as little as 50-400 microampere. Its enhanced SiRFNavPlus navigation engine ensures seamless car and pedestrian navigation in extremely tough urban canyon and dense foliage environments.

Available in both ROM and flash supported versions, the GSD4e is the first CSR product to come with patented SiRFInstantFix™ synthetic ephemeris technology as a standard feature for even greater performance. On-chip active jammer removal, a key feature of the SiRFstarIV architecture, not only eliminates electrical noise commonly associated with the motors, LCD screens and other components commonly found in smartphones, cameras, game consoles and other consumer devices, but also pinpoints for designers much earlier in the development process the precise strength and source of these interfering signals, enabling them to be contained in the design phase rather than in later, more costly test phases. The GSD4e also supports a full range of satellite-based augmentation systems, including WAAS, EGNOS, MSAS and GAGAN.

"The ROM version of the GSD4e GPS engine has the advantage of being an extremely cost-effective, small and low-power solution with complete location capability for easy integration into space and processing resource constrained consumer devices," said Sunil Gopinath, senior product marketing manager for CSR's consumer business unit. "The flash version gives customers access to extra throughput of the CPU, more flexibility to customize and quick access to new, innovative algorithms from CSR, while our development tools enable them to create custom software to run on the GSD4e processor and flash memory, and thus add their own innovations."

Gopinath explains that the GSD4e has built-in circuitry and temperature adaptive software that allows it to replace a temperature compensated crystal oscillator (TCXO) with a low-cost crystal, thus enabling bill of materials (BOM) conscious customers to design GPS into their products with the lowest BOM cost in the market today.

He also explains that the GSD4e's integrated eFuse technology helps customers take system configuration to the next level by electronically setting custom configurations at system boot-up instead of the time consuming manual software changes inherent in current products in the market today.

The ROM version measures a 3.5 mm × 3.2 mm, and comes in a 42-ball, 0.5-mm pitch wafer level chip scale (WLCSP) package. The flash version measures 5 mm × 7.2 mm, and comes in a 103-ball, 0.5-mm pitch ball grid array (BGA) package.

The GSD4e combines RF receiver and integrated LNA, baseband circuitry, switcher and low-current LDOs on a single chip, and requires only five to six external passive components and a single SAW to provide a complete solution that occupies less than 25 square millimeters, including switcher parts.

The SiRFstarIV Advantage

The SiRFstarIV architecture core is comprised of a high-performance GPS location engine, smart location sensor interface, adaptive micro-power manager and active jammer remover, which together deliver:

• Twice the search capacity of the industry proven SiRFstarIII™ architecture, resulting in enhanced sensitivity, reduced time-to-fix and improved positional accuracy

• Advanced micro-power management and integrated switched-mode regulation that maintains hot-start conditions with minimal energy (50-400 microamperes)

• Intelligent MEMs sensor support (for accelerometers and other sensors) that improves the location experience, enabling greater contextual awareness, more sophisticated energy management and enhanced indoor positional accuracy

• Advanced DSP technology that actively searches for jammers and removes them prior to correlation for maximum GPS performance and design troubleshooting.

Availability and Pricing

The CSR SiRFstarIV GSD4e single-chip GPS engine with external flash memory is available in sample quantities this month. The ROM version will be available later this quarter. Production quantities are scheduled for the first quarter of 2010. Please contact your local CSR sales office for pricing information.