Sinemia takes the fight to MoviePass with new plan pricing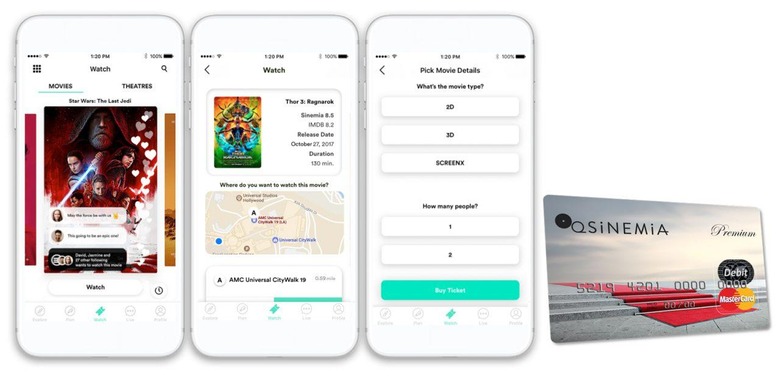 Sinemia is looking to put some pressure on MoviePass, today announcing an overhaul to its subscription plans. Sinemia has reworked pricing on many of its plans, and while in some cases those plans cost less or the same as the popular MoviePass Unlimited Plan, there are some key differences between the offerings from both companies. The big question, of course, is whether or not this subscription revamp will pull in new customers for Sinemia.
In an announcement today, Sinemia said that it's introducing four new plans. The least expensive of these plans costs $4.99 per month, and gets subscribers one ticket to any movie every month. The next step up costs $6.99 and ups the number of tickets to two. For $9.99 per month – the same cost as the MoviePass Unlimited Plan – you get two tickets to any movie per month with options for 3D, 4D, and IMAX, while the most expensive $14.99 per month plan gets you three tickets each month and includes those same special formats.
On paper, these plans don't look nearly as good as the MoviePass Unlimited Plan, which lets you see one movie per day for $10 a month. However, Sinemia offers some perks that MoviePass doesn't, and those perks could cause some people to defect despite the lower price MoviePass charges. For instance, Sinemia allows you to see the same movie multiple times, whereas MoviePass does not.
Sinemia also promises access to every movie in every theater, and while MoviePass works at a wide range of theaters across the US, it can't quite make the same promise Sinemia can. Sinemia also supports advance ticket purchases, allowing you to buy tickets for a movie up to 30 days ahead of time. Again, MoviePass doesn't offer such a feature.
Perhaps most important, though, is that Sinemia doesn't seem to be risking bankruptcy by rolling out these new plans. MoviePass is actually losing money every time its subscribers see a movie using the service, and right now, it's trying to figure out how to better monetize its quickly growing user base before it goes completely broke. The concessions MoviePass will need to eventually make to keep the lights on might not sit well with users, while Sinemia users may be able to avoid such a future entirely by giving its plans sustainable pricing from the start.