Simplehuman Rectangular Sensor Can Review: A $250 trash investment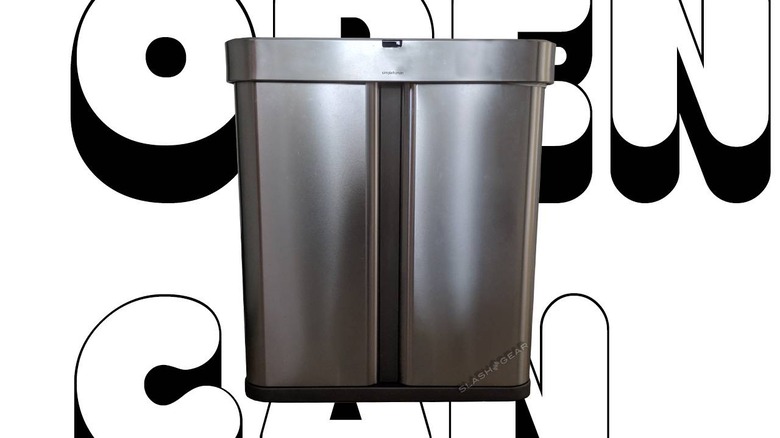 When I mention the cost of this garbage can, you may recoil in horror. How dare I even consider recommending anyone pay two hundred and fifty US dollars for a can into which garbage should go? I thought the same thing at first, then I considered how often I'd replaced my kitchen garbage can in the last decade. Then I got to thinking about how much I hated the fact that no garbage can I'd ever owned really did a great job of masking smells of any significant strength, ever. Then I wondered if a can of this caliber could actually be a good investment.
The can we're looking at here is made by the folks at simplehuman. The can's name is "Rectangular Sensor Can with voice and motion sensor" and it's available in stores right this minute. This is the most extravagant of the garbage cans offered by simplehuman at the moment, save the ever-so-slightly more expensive alternate metal – Black Stainless Steel for $10 more.
There are several versions of this can – the one we're reviewing here is "brushed." There's also rose gold, black stainless steel, dark bronze, and white. They're all metallic, and all have the company's "invisible fingerprint-proof coating" which is "infused with nano-silver particles that prevent microbes from reproducing."
The can is 18.5 x 13 x 24.8 inches – that's 24.8-inches tall, 13-inches from back to front, and 18.5-inches wide. When the can is open, the distance from base to tip of can top is 34.6-inches. The capacity of this can is 58 liters, and it's split into two sections.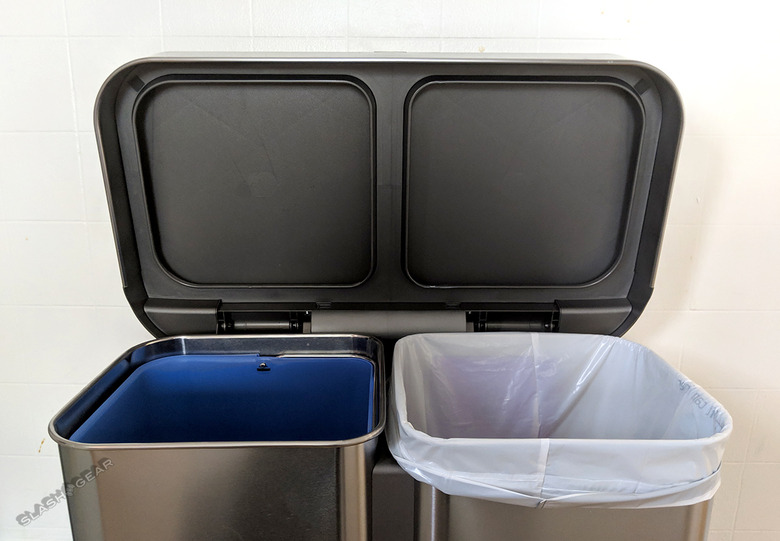 There's also a version of this can with a single section – for JUST trash. This version we're reviewing has two sections, one for trash, the other for recycling. The recycling part has a removable bucket with a handle into which you'll put all your soda pop and/or beer cans.
Also there's a bag of bags that comes with the can. The bag of bags is what simplehuman will assume you need to buy more of when you're done, because they're a specific size. The size you buy is "Q" and you... might not actually need them if you don't really want to use them.
The bag you use in the can, the non-recycling side of the can, fit in a way that allows them to stay hidden when the can's lids are closed. Buy a cheaper bag and it might peek out a little – but there aren't really any other drawbacks to using a 3rd-party replacement.
On top of this can are two lids. One lid is the topmost top, then there's a second part that's sort of akin to the top on an inkjet printer – you only use it when you need to replace the bag.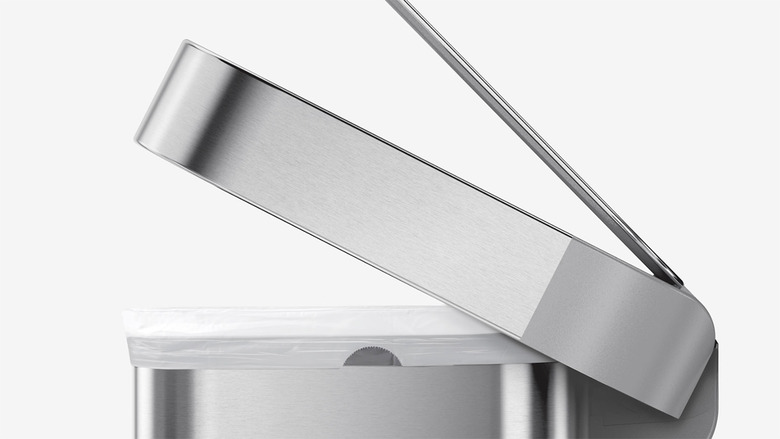 There's a voice control sensor and a motion sensor, too. When I spoke with simplehuman about getting a loaner review unit, here, I assumed we were getting one of the models that did not require electricity. I just wanted to see if one of the several simplehuman cans was able to do a better job than a $25 piece of plastic.
But this is a sensor can with voice control. You can talk to this can. If you say "open can" the can opens. You can also say things that sound similar to open can, like "total ham" or "soap and lamb" and they work, too. Your children will CONFIRM that the voice control works on this can, endlessly.
The positive side of this situation is that your child will be super happy to throw trash away. Just don't do it if your child gets super annoyed when "close can" doesn't actually close the can. They're gonna slam it, just you wait.
The good news on THAT bit is that this garbage can is pretty gosh-darned tough. It'd better be, given the materials it's made of – and it is. It's also extremely quiet. I didn't actually consider the noise level until I went back to the simplehuman webpage for the can and saw that they'd worked specifically on the sound – it's so quiet I never even thought about it.
You can also wave your hand above/in front of the can's sensor and the can's motor will open the lid. Both sensors use the same method to open the lid, smoothly and calmly.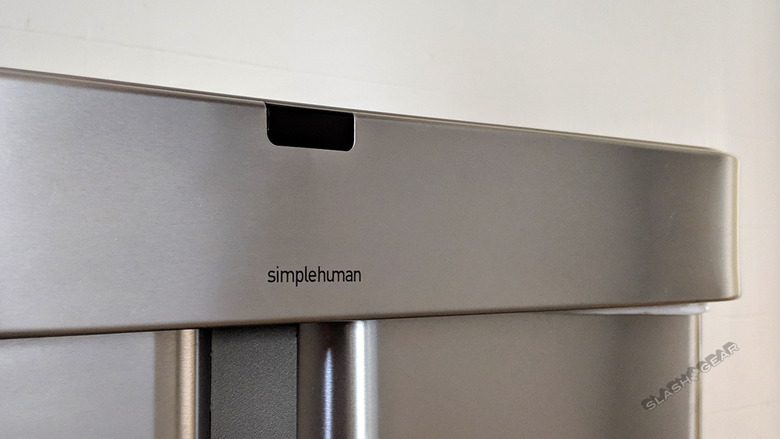 If you get this model with the sensors, you're going to need to be sure you want to actually utilize the motion sensor and/or the voice control. Because there's no alternative to opening this can, short of digging your fingernails under the lid to pry it open.
You'll also need to either open the back and insert 6x AA alkaline batteries or plug the can into a wall power socket with the included power adapter. It was a bit of a bummer for me to have to find a place in the kitchen that was convenient because of this plug since I live in an old unit with relatively few sockets.
But now that the can's been set up for a while, I'd really rather not go back to a lesser can. In the end, every garbage can sort of does the same thing, but this one is fancy. It's also the first trash can I've ever used, EVER, that did a decent job at keeping smells contained.
The folks at simplehuman have this can available at stores for right around $250 USD. At that price it most certainly does seem like it'll be an investment of sorts. But as far as I'm concerned, as often as I use this can on a daily basis, there's no better place to invest in a long-lasting appliance than with a few bucks here in the trash.