SIM2 Grand Cinema CX3 $42k DLP projector gets reviewed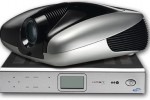 If you're going to spend $40k-$42k on a DLP projector, you want to know it can deliver the visual goods.  Happily, according to Electronic House, the SIM2 Grand Cinema CX3 Lumis HOST system does just that; the two-piece Full HD projector produced "viewing splendor".
The system consists of two components.  First, the reference-quality 3-chip DLP projector unit itself, which boasts 35,000:1 contrast ratio, 3,000 ANSI lumens of brightness and 1080p visuals.  Then there's the rack-mountable control module and video processor, with 10-bit video processing, high-definition scaling and deinterlacing, and an integrated display showing brightness, contrast, gamma, signal type and other settings.
Electronic House found the Grand Cinema CX3 performed well with both broadcast HD and recorded content.  Colors are particularly praised, being "rich and vibrant" as well as "very natural and realistic".  In fact the only real drawback is, unsurprisingly, the price.