It isn't all that often we get to talk about remote-controlled cars here at SlashGear, but the one we're covering today comes with a few cool gadget-related features. Say hello to the Mercedes-Benz SLS AMG, a new RC car from the folks at Silverlit. While it looks like a normal RC car at first – and largely is – there are a couple key differences between this and other RC cars we're used to seeing.
First and foremost, the Mercedes-Benz SLS AMG is controlled using an app on your iPhone, iPad, or iPod. The car will connect your device using Bluetooth and a downloadable app that's included along with your purchase. This setup allows you to use your device's tilt controls to steer the car, and if you're using an iPhone, you'll feel force feedback as you rev the engine, which increases in intensity the faster the car is going.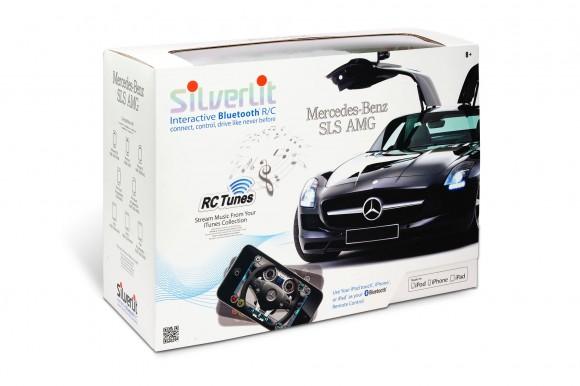 While all of that is awesome, there's one feature in particular that makes the Mercedes-Benz SLS AMG RC really stick out from the crowd: music playback. You can use the app to play music from your device while you're driving the car, or you can park it and play your music through the speakers this bad boy comes equipped with. The gull-wing doors on the car open to make sure you can hear everything nice and clear, and the lights on the car will even flash along to the music.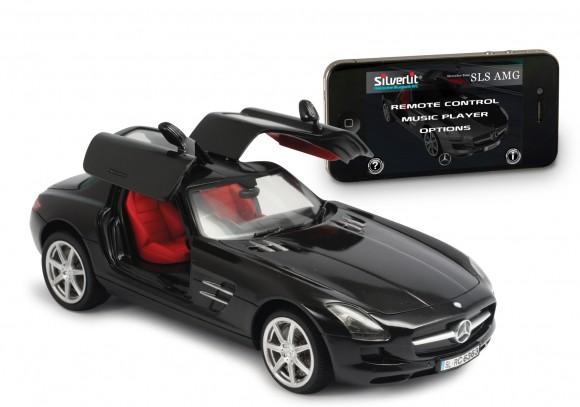 The Mercedes-Benz SLS AMG comes with a price tag of $129.99 and will be launching sometime in Spring 2013. Silverlit is set to give the RC car a full reveal during CES 2013, which is right around the corner. Of course, we'll be there reporting on all of the awesome stuff that's sure to appear on the show floor, so keep it here at SlashGear for all you need to know!