Silk Labs' Sense wants the IoT to have some style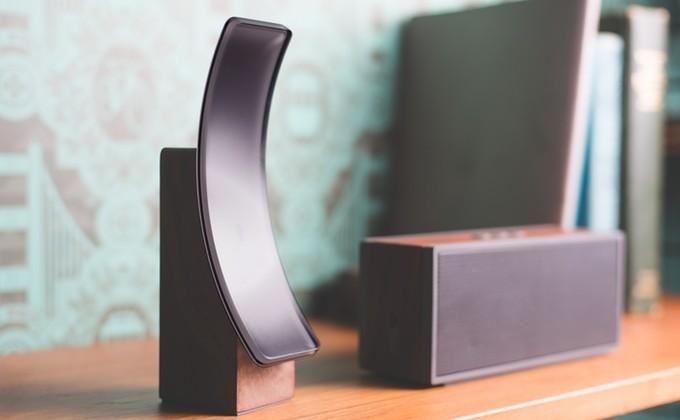 The smart home may be fashionable right now, but it's hardly attractive, something one startup created by a former Mozilla exec aims to change with Sense. Brainchild of Andreas Gal, who until 2015 was chief technical officer on the Firefox team, Silk Labs has visions of a connected camera that's pretty enough that you want to look at it while it's watching you.
To that end, Sense definitely breaks the mold on home security cameras. In fact, you could be forgiven for mistaking it for a piece of abstract art (or perhaps a not-especially-effective makeup mirror), with its curved metal fascia and wooden base.
Of course, at $225 – launching through a Kickstarter campaign today that aims to raise $10k – you'd hope that it did more than just look intriguing on a shelf. Inside, there'll be a 1080p camera with a wide-angle lens, infrared LEDs for night-time illumination, a microphone, and a speaker.
There's also a surprisingly potent processor for an IoT device. Sense packs a six-core ARM chip paired with a "high performance" GPU and 2GB of RAM, along with 16GB of storage. That's because, though there's obviously cloud support via the dual-band WiFi and Bluetooth, Silk Labs is pushing local processing for efficiency and privacy reasons.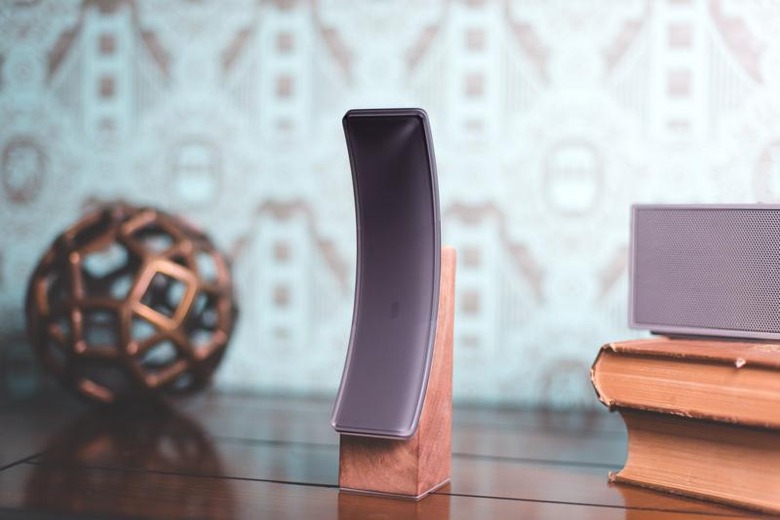 Most IoT cameras rely on distant servers to crunch things like motion detection and face recognition; in contrast, Sense will do that locally. With secure key exchange between the owner's phone and the camera, the Silk Labs says, "we make it impossible for anyone not in possession of your smartphone, or Sense, to view your private moments."
That chipset also means Sense can be opened up to third-party developers over time, with various APIs and support for apps written with Node.js. There'll be private distribution as well as a public-facing app store for the camera.
Some of Silk Labs' own software gives an idea of the direction they see Sense taking, beyond just doing security camera duties. The current working prototype – which is a headless smartphone rather than the fancy design prototype they're showing – can connect with IoT lights such as those from Philips Hue or LIFX, Nest's smart thermostat, and Sonos speakers.
As well as automatically triggering them – say, playing music or adjusting the thermostat if movement is detected – there's support for issuing voice commands, and Silk Labs claims that the system is sufficiently intelligent to ignore changes in lighting or fluttering curtains, and instead differentiate between people and even pets.
NOW READ: The 101 on Bluetooth's slickest new feature
If the fledgling smart home segment has shown us anything so far, it's that one company is unlikely to own the whole experience. Silk Labs is probably off to a good start, then, in trying to emphasize how Sense will interlink with other platforms rather than attempt to do everything itself, though it'll need developer traction if the system is to get the apps it needs to be truly compelling.
Should all go to plan with the Kickstarter, Sense should begin shipping in December 2016.
SOURCE Silk Labs