Sidekick 2009 landing May 13th says T-Mobile launch leak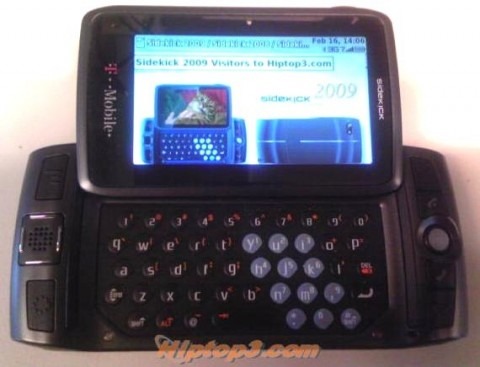 A leaked list of T-Mobile USA release dates has emerged, seemingly confirming that the carrier will launch the Sidekick 2009 "Blade" on May 13th.  The list also suggests that the HTC Touch Pro2 will arrive on July 22nd, together with a clutch of pre- and postpay Samsung handsets across Q3 2009.
The full list of release dates is as follows:
"Blade" (Sidekick 2009) – May 13
HTC "Maple"/"Snap" – July 1st (contrary to earlier speculation, this seems to confirm a T-Mobile variant)
HTC "Rhodium"/Wing II – July 22nd (also known as the Touch Pro 2)
HTC "Sapphire"/"Magic" – TBD (aka G2)
Sony Ericsson "CS8" – June 24th (8mp camera? Is this the Android device they've been talking about?)
Nokia 1661 (prepaid) – April 29th (a week later than previously mentioned)
Samsung T349 (prepaid) – May 6th
Samsung T239 (prepaid) – May 13th
Samsung T559 – July 15th
Samsung T469 – July 15th (just a simple two-tone gray, apparently)
Samsung T749 – July 22nd (2 colors for this one: red/orange and two-tone gray)
Samsung T659 – August 19th
The Sidekick 2009 in-the-wild image leaked back in February.  According to earlier specification leaks, the handset will have 3G connectivity, a 3.2 megapixel autofocus camera with flash, YouTube access and integrated GPS.  That's along with the traditional QWERTY keyboard and a flip-up screen believed to be 3.2-inches running at 854 x 480 resolution. 
[via MobileCrunch]