Shuttle XPC SZ68R5 packs super-fast Core i7 into tiny footprint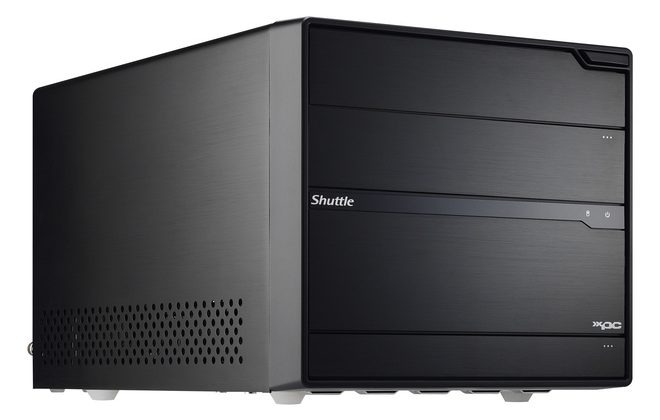 Compact PC manufacturer Shuttle has outed its latest barebones computer, the Shuttle XPC SZ68R5, featuring Intel's Z68 high-performance chipset along with SSD caching for super-fast boot times and app loading. The 33 x 21.5 x 19 cm chassis can accommodate up to 32GB of DDR3 memory, Core i3/i5/i7 processors and up to four add-on cards, since it has slots for PCIe-x16-2.0, PCIe-x4-2.0, Mini-PCIe-x1-2.0 and mSATA. HTPC duty is made easier thanks to both HDMI and DVI-I ports.
Alternatively, one of those PCI cards can be used to slot in a separate graphics card, or indeed you could use Sandy Bridge's onboard GPU capabilities to drive up to four displays simultaneously. Using an mSATA-SSD, fitted into the Mini-PCIe slot on the mainboard, means the system can take advantage of Intel's proprietary Smart Response Technology, exclusive to the Z68 desktop chipset, to bolster the performance of the regular hard-drive.
Such drives can be fitted into the XPC SZ68R5's two 3.5-inch bays (one internal, one external) or into the 5.25-inch bay (which otherwise could be used for an optical drive). Motherboard connectivity includes two SATA 6 Gbit ports, two SATA 3 Gbit ports, two USB 2.0 and an RS232 port, while on the outside there are four USB 3.0, six USB 2.0, an eSATA/USB combo, 7.1-channel analog audio, and S/PDIF digital audio. The standard PSU is a 500W unit, and one of the front USB ports gets 2 Amps for charging power-hungry devices like your iPad.
Shuttle is asking €301 ($397) for the XPC SZ68R5, though that doesn't include a processor, RAM, any standalone graphics cards, optical or hard-drives, or SSD memory for the Smart Response Technology boost.