Shuttle XH61 packs Core i7 into 7cm PC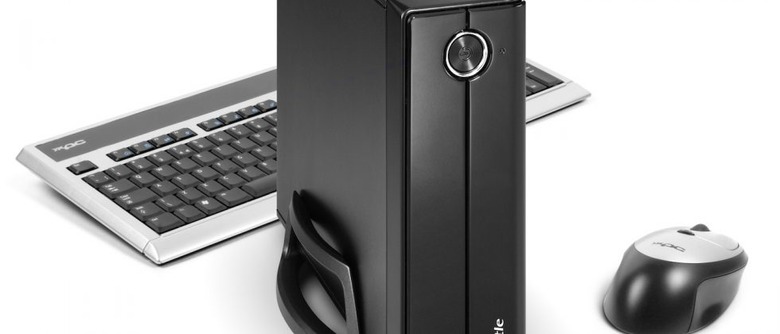 Shuttle has outed its latest barebones PC, the XH61 and if you've been eyeing the Mac mini but need an optical drive and native Windows then the 7cm-high desktop is worth a glance. The XH61 packs an LGA1155 socket motherboard with two RAM slots – for up to 16GB of DDR3 memory – four SATA 3 Gbit/s ports and room for both a 2.5-inch drive and slimline DVD or Blu-ray drive into a 24.2 x 20 x 7.3 cm enclosure, ideal for HTPC or desktop duties.
Graphics are courtesy of whichever Intel Sandy Bridge Core i3, i5 or i7 processor you slot in, so basically HD Graphics 2000 or 3000, and the XH61 can take a CPU with a maximum TDP of 65W. Ports include HDMI, D-Sub, three audio outputs (with 7.1-channel surround sound support), gigabit ethernet, six USB 2.0 (two up-front behind a drop-down panel) and two PS/2 for legacy peripherals.
The box can be positioned upright or flat on your desk, or even screwed into a VESA mount on the back of your display, and while it may look nowhere near as slick as the aluminum Mac mini, there's plenty of flexibility for turning it into a media center PC or something similar.
The Shuttle XH61 is priced at €146 ($186) though you'll have to supply your own processor, memory, hard-drive and optical drive on top of that. Drop a Core i7 inside and you might have quite the little slab of potency.