Shuttle X50 All-in-One touchscreen nettop with Atom 330 dual-core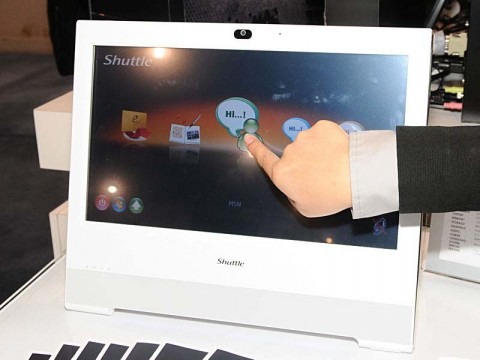 CES may have been less well attended than last year, but it was still big enough that many stands went ungraced by the SlashGear team.  One I wish we'd called by was Shuttle's, who were showing off their X50 All-in-One nettop.  As has been pointed out, it's a direct rival to the ASUS Eee Top, only instead of that model's N270 processor the X50 rocks a 1.6GHz dual-core Atom 330 CPU. 
Both have a 15.6-inch LCD touchscreen, with the X50's running at 1,366 x 768, and 1GB of RAM.  Where the Eee Top has a 160GB hard-drive, however, Shuttle make do with just 80GB; it does apparently come with XP Pro, though, rather than Home.  Chipset is Intel's 945GC, with GMA 950 graphics.
Ports include at least five USB 2.0, ethernet, audio in/out and a card-reader.  The Shuttle X50 All-in-One is expected to go on sale in March 2009, priced at around $499; that makes it around $100 cheaper than the ASUS machine.