Shuttle X27D barebone PC with Atom 330 dual-core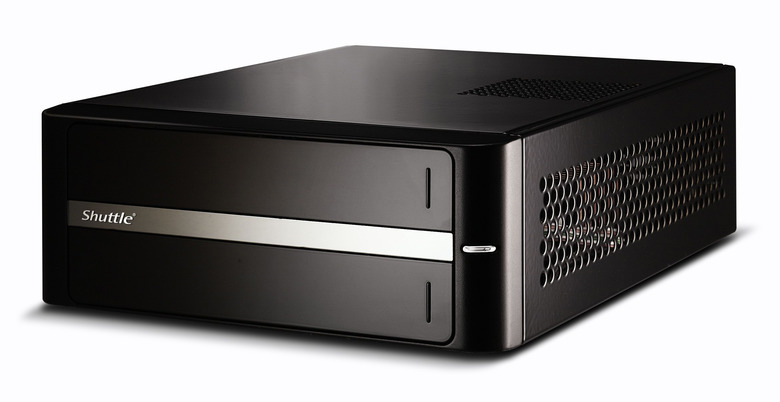 Shuttle have announced their latest barebones PC, the X27D, which includes the new Intel Atom 330 dual-core 1.6GHz processor.  Consisting of two 1.6GHz cores, each with 512KB L2 cache and a 533MHz FSB, the Atom 330 supports HyperThreading and uses the chip-maker's 945GC+ICH7 Express Chipset; it's intended for nettops and other small-form-factor desktop PCs. 
In the case of the X27D, that means capacity for up to 2GB of DDR2 RAM, integrated graphics with both VGA and DVI-D outputs (both of which can be active simultaneously in "clone mode"), 5.1 surround sound and gigabit LAN.  Other connections include a total of six USB 2.0 ports (two up front, four at the back; a further four pin-out USB connections are available on the mainboard itself), microphone and headphone sockets on the front and audio line in/line out/microphone on the back, a COM port and PS/2.
Space is available for a slimline optical drive and SATA 2.5-inch hard-drive.  The 60W PSU is external and the Atom 330 passively-cooled, while the X27D itself measures 250 x 185 x 70 mm.  It's priced at €205 excluding VAT ($263) and available now.
Press Release:
Intel Atom Dual-Core Processor 330 now housed in the Shuttle Barebone X27D

Faster yet with the same low power consumption

Shuttle Inc., the market leader in the Mini-PC segment and the manufacturer of multi-form-factor solutions now presents the successor to the successful market introduction of its first Nettop Barebone. The Shuttle Barebone X27D is the first Shuttle barebone to have an Intel Atom 330 Dual-Core processor working inside.

"The performance advantage of the two CPU cores with hyper-threading is almost imperceptible in the power consumption – a technical masterstroke", explained Tom Seiffert, Head of Marketing & PR at Shuttle Computer Handels GmbH. "The work to be handled by the processor is intelligently shared across all the cores, enabling several applications to be used concurrently", continued Seiffert.

All functions are managed by an Intel 945GC Express chipset. The low waste heat of the Intel Atom processor allows for a passive cooling without the need for a CPU fan.

With barely 7cm in height, the Shuttle Barebone X27D also comes with Gigabit-LAN, 6 channel audio, two monitor connectors, Serial ATA and support for up to 2GB DDR2 memory. Any Slimline drive plus a hard disk or a robust Solid State Disk (SSD) in 2.5" format can be housed internally. Six USB connectors enable expansions outside of the case. Power to the Shuttle Barebone X27D is provided by an external fanless 60 Watt power supply.

The Shuttle Barebone X27D is available from specialist retailers immediately. Shuttle's recommended retail price is EUR 205 (ex VAT). Suppliers can be found on Shuttle's European website.

Turnkey complete solutions based on the Shuttle Barebone X27D with Windows Vista operating system can be configured online in the Shuttle Systems Configurator to suit individual needs.