Shuttle I-Power GXT Mini External GPU Gets Video Demo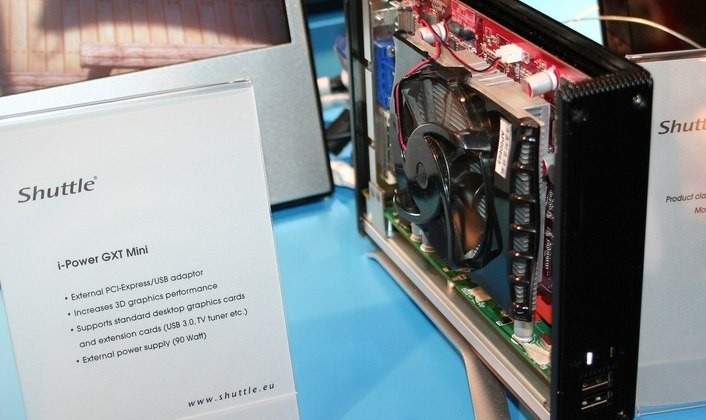 Gigabyte's external-GPU BookTop M1305 and M1405 notebooks aren't the only machines relying on a separate graphics boost at CeBIT 2010 this week.  Shuttle have brought along their interpretation, in the shape of the I-Power GXT Mini, a compact box fitted – in this case – with an ATI Radeon HD 4650 that hooks up to Shuttle netbooks via a special GXP port that looks a little like a larger HDMI port.
Video demo after the cut
According to NetbookNews, when attached the netbook saw a tenfold increase in graphics performance, benchmarking around 5,000 marks in 3DMark06 compared to around 500 when the CULV machine was tested alone.  It's not just for graphics cards, though; since the i-Power GXT Mini box basically gives you a PCI-Express slot to play with, you can slot in a desktop TV tuner card or a USB 3.0 card.  There are also a couple of USB 2.0 ports on the front panel no matter what guts you opt for.
Shuttle will apparently sell both preconfigured versions of the setup, with a video card already in place, and barebones versions.  Meanwhile the GXT port itself will be showing up on netbooks and nettops from the company, such as the one demonstrated in the video below.