Shuttle H3 6700G gaming PC packs big punch, tiny footprint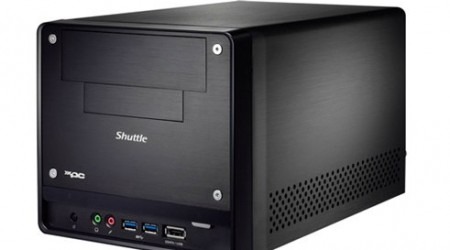 Shuttle has outed its latest PC, the Shuttle H3 6700G, and while it may be branded a gaming SFF desktop (based on the SH67H3 barebones), it's a reasonably discrete one. None of the flashy lighting of Alienware or the candy colors of some rivals; the H3 6700G is an unassuming little black box that keeps most of its abilities hidden inside.
Inside the aluminum chassis there's a motherboard using Intel's H67 Express chipset for the latest Sandy Bridge Core i3/i5 /i7 processors, along with LGA1155 for GPU enhancement, SATA-III 6Gbps support and two SATA-II 3Gbps connections. Other ports include a pair of eSATA – Shuttle envisage some users setting up RAID arrays and using Intel's Rapid Storage tech – along with four USB 3.0, seven USB 2.0, HDMI and DVI.
A heatpipe system for the CPU means a smaller, quieter – and more power-frugal – fan can be used, while still leaving space for two graphics card slots. Up to 16GB of DDR3 1333 MHz memory can be fitted, and there's gigabit ethernet and surround sound support. The demo model at E3 2011 this week used a Core i5 2500K CPU, 4GB of DDR3 memory and an NVIDIA video card. No word on pricing at this stage.
Press Release:
Shuttle Unveils H3 6700G Gaming PC at E3 2011

Shuttle Teams Up with Top Game Publishers to Demo Up-and-Coming Games and Franchises on Shuttle's New H3 6700G Small Form Factor Gaming PC at E3

LOS ANGELES, CA — Jun 09, 2011 / (http://www.myprgenie.com) — Shuttle, a world-leading PC manufacturer focused on high-performance small form factor desktops, has teamed up with the computer and video ga me industry's top publishers at E3 2011, including Square Enix (Tomb Raider(R) and Final Fantasy(R)), to present its new Shuttle H3 6700G small form factor gaming PC. Shuttle is the PC provider of Square Enix's upcoming tactical MMORPG, WAKFU(R), among other titles.

SMALL FORM FACTOR GAMING PC

Shuttle's new H3 6700G, designed for gamers and extreme gamers, is based on Intel's H67 Chipset for Socket 1155 processors. Housed in a brushed aluminum chassis and featuring the latest technology like USB 3.0, 7.1 surround sound audio, and full 1080p video via HDMI, the H3 6700G is light on weight yet heavy on features. The configuration shown at E3 2011 features Intel's Core i5 2500K CPU, 4GB of DDR3 memory (up to 16GB), and an NVIDIA gaming performance graphics card.

Find out more about the new H3 at http://us.shuttle.com/barebone/Models/SH67H3.html