Shiny Pokemon GO hunting glitch discovered at last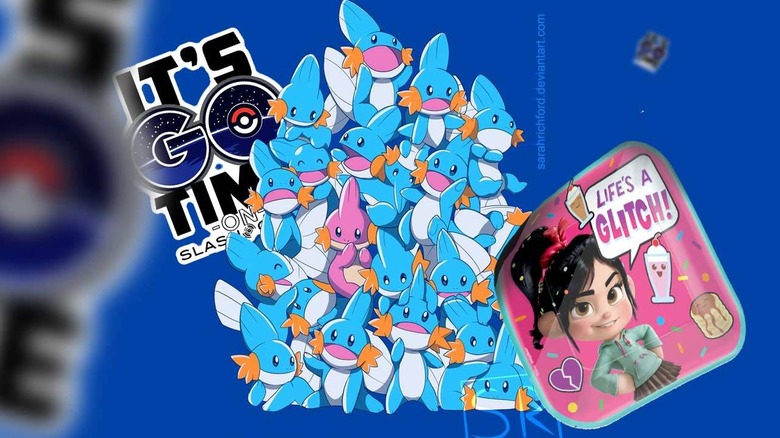 There's a bit of a glitch in Pokemon GO that's not a big enough deal for Niantic to "fix". This glitch is nicknamed "Skip Catch", and it's pretty much exactly what you'd expect – it skips the lengthy process of waiting for each Pokemon to wiggle around and either escape or remain in your care forevermore. You're going to need two hands to do this method, which is a bit of work, but it's worth the effort if you're looking for Shiny Pokemon en masse.
The Shiny Pokemon hunt in Pokemon GO rages on! After thousands of catches and dozens of Shiny Pokemon – dozens! – the strategy remains largely the same. Catch as many of one Pokemon as you can, and provided there IS a Shiny of said Pokemon, a shiny you may find! To make this method slightly less maddening that it inevitably turns out to be, the Skip Catch glitch is key.
NOTE: The image at the top of the article was sorta vandalized by SlashGear (in a positive, supportive way!) And was originally illustrated by Sarah Richford. More information on this stack of Mudkips can be found at the Sarah Richfords DeviantArt page.
To make this Skip Glitch action yours, you'll need to follow the following instructions in either the Android or iOS version of Pokemon GO. Make sure you're seeking out a Pokemon that actually has a Shiny version in the game before you use this method 12,000 times, if you're looking specifically for Shinies, but feel free to use the method for whatever sort of Pokemon you like – it's good for all! The instructions are followed by a helpful instructional video from the folks at BitRulez.
• Step 1: In a Pokemon encounter, swipe over your Pokeball, right to left, and keep your finger on the screen (don't lift up yet!)
• Step 2: Throw the Pokeball with your free hand (like normal) while keeping your Step 1 finger pressed on the screen.
• Step 3: Once the Pokeball has hit the Pokemon (Nice!) you'll remove your Step 1 finger from the screen.
• Step 4: As the Pokemon is being kidnapped by the Pokeball, you should see your drawer full of Pokeballs jump out from the right side of your display.
• Step 5: Tap your display once.
• Step 6: Tap your escape button (run away) in the upper left-hand corner of your screen.
• Step 7: Repeat at will. If you captured the Pokemon, you'll see some sort of ERROR message (don't worry, nothing bad happened to you or your Pokemon). Otherwise you can try again!
NOTE: The BitRulez video was posted all the way back in February of 2018, but the method still worked for us this week – maybe it'll be around forever? Cross your fingers – you're going to have to cross them anyway to make this double-swipe move a reality.
If you captured the Pokemon successfully, you'll likely find an ERROR 55. If you did not, you'll be given the opportunity to move in and out of the capture screen far more quickly than you'd have gone without the Skip Catch method. Have a peek at the timeline below and prepare your mind and your soul to capture as many Mudkips as possible in July. The big event is nearly here, and a Shiny Mudkip shall be yours.