Shelby To Unveil 1,200HP Mustang At New York Auto Show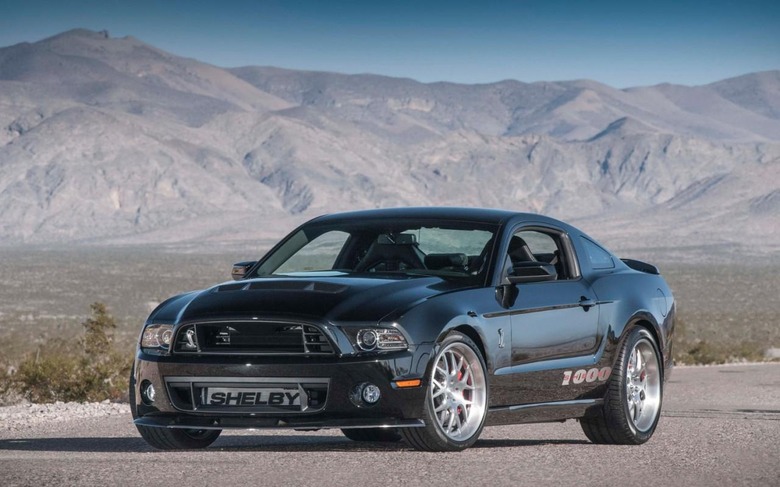 Shelby is best known for its radically-modified Mustangs, as well as the classic AC Cobras from the 1960s. The company will be making an appearance at this week's New York Auto Show to unveil its newest creation: the 2013 Shelby Mustang 1000 S/C, which will pack a whopping 1,200 horsepower under the hood. The company plans to unveil the new car on Thursday.
Shelby has built three models based on Ford's Mustang lineup, consisting of the Cobra, GT350, and GT500. Of course, Ford builds their own GT500, but Shelby's variant takes this to a different level, packing in over 660 horsepower. The 1000 S/C, on the other hand, will have twice that, making it Shelby's most-powerful car to date.
The 1000 S/C packs a 5.8-liter supercharged V8 engine — the same one from Shelby's 2013 GT500, which has a top speed of 202 mph. This is paired with a reinforced six-speed manual transmission that allows for a street legal 1,200 horsepower at the flywheel, and probably close to 1,000 horsepower at the wheels.
It's such an insane car, that it won't even pass California's emissions tests, so Californians are out of luck here. In fact, many people are out of luck, thanks to the roughly $210,000 price tag. Essentially, Shelby is taking the 2013 GT500 template and modifying it a bit to make it a 1000 S/C. The GT500 costs just south of $55,000, and the conversion costs for turning it into a 1000 S/C is a cool $155,000.
[via Digital Trends]