2013 Shelby GT500 Packs 650hp, 200+ mph top speed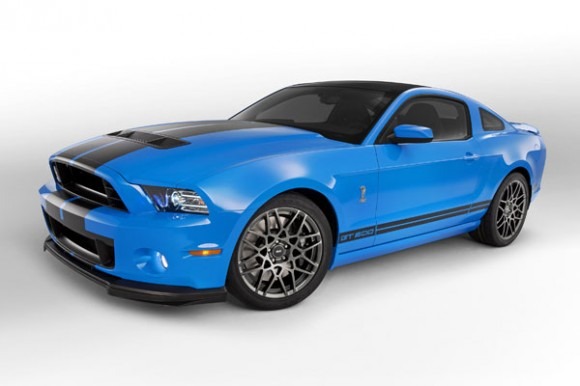 The big news so far today in the auto world have been the unveiling of the slightly revamped ford mustang line. I have already talked about the Boss 302 for 2013. Now we will look at the most beastly of all Mustangs for 2013, the GT500. The car landed a new V8 engine for 2013 with 5.8L displacement and a massive 650HP and 600 lb-ft of torque.
The V8 is hailed as the most powerful ever placed in a production car from the factory. Along with the new engine, the GT500 also gained some other tweaks with new downforce generating body panels and new optional performance package for the track. Ford claims the new aero work and power gives the GT500 a top speed of over 200 mph.
The car also gets a revised and improved cooling system, a new upgraded transmission, a new clutch, and the engine uses a new TVS style blower. The car also has an optional Performance Package that adds a torsen differential and new Brembo brakes with 6-pistons. The Performance Package also gets new SVT Blisten electronic adjustable suspension with comfort and track modes adjusted with a button on the dash. Pricing on the GT500 for 2013 isn't announced. So much for that Camaro ZL1.