Shazam adds auto-tagging: Always listening to your music and TV

Shazam has revamped its iOS app with the iPad getting the spoils, including an auto-tagging feature that constantly keeps a digital ear open to recognize any music playing nearby. The new app reworks the Shazam homescreen to put more emphasis on social music discovery, listing what tracks contacts are listening to, and can automatically pull in lyrics more quickly as well as – in the US, primarily – interact with TV shows.
For US users, and those watching select content in the UK, the new Shazam iPad app can listen out to what's showing on-screen and pull out extra content. That could be special offers related to advertising, or information on specific shows and actors. The new homescreen will include what TV is being commonly watched in among the music listings, too.
Elsewhere, there's integrated Rdio streaming – for which you'll need a subscription – to instantly play back tagged songs, and a world mapping system which can show what's popular in different locations. Shazam says it's accurate down to town-level data, in some cases.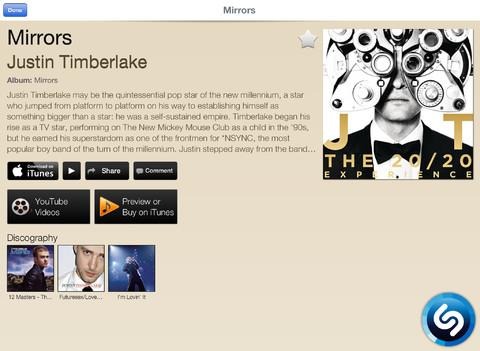 Meanwhile, the app can now apparently recognize music in as little as a second, and there's tagging caching if you're in an area with a poor data connection, so that you don't have to re-tag them when you get coverage again. Social options now include email, Facebook, Twitter, and Google+.
Shazam's new app is available for iPhone and iPad, though some of the more impressive features only work on the tablet version. As for the Android app, that's due to get a similar update "in the coming weeks."