Sharp Softbank 9225H smartphone and MID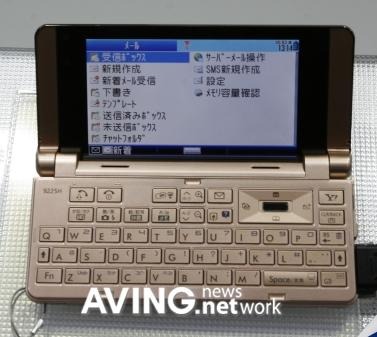 Occasionally it's nice to glance into the distance and see what our friends in the Far East are enjoying (and then usually drool uncontrollably while cursing the current state of our own electronics).  Today it's the turn of the Sharp Softbank 9225H, a cellphone-cum-MID with a 3.5-inch widescreen VGA display and full QWERTY keyboard.
As well as making calls, messages and emails, the 9225H has an integrated 1-Seg TV tuner and music playback.  I'd also assume – or at least hope – it can play video, too, since not doing so would be a real waste of that display.
A built-in 2-megapixel camera is there for imaging, though there doesn't appear to be an obvious internal lens (it could be disguised in the black screen bezel).  Storage is via microSDHC, and the whole thing is just 9.9mm thick.  Don't get too excited, though; it's another gadget unlikely to make it out of Japan.