Sharp NetWalker PC-Z1 MID Lands In Japan Next Month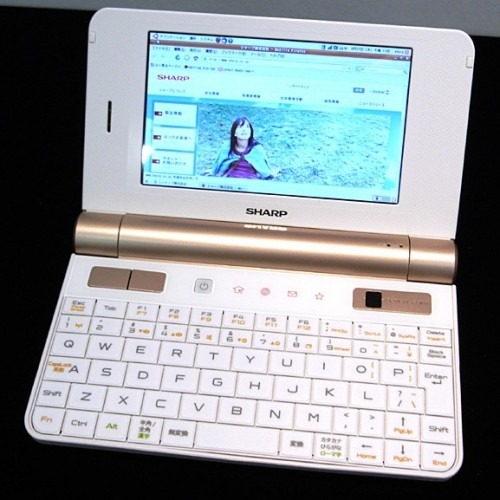 Looking surprisingly like UMID's mbook M1 MID, Sharp have unveiled their newest clamshell ultraportable and – thank goodness – it's not just an e-dictionary.  The Sharp NetWalker PC-Z1 has a 5-inch 1024 x 600 touchscreen, full QWERTY keyboard with optical mouse, and Ubuntu 9.04 as the OS; connectivity includes WiFi b/g, both a USB and mini-USB port, and a headphone jack, but there's no integrated 3G.
More images – plus size comparisons – after the cut
Running the show is Freescale's 800MHz i.MX515 CPU paired with 512MB of RAM and 4GB of solid-state storage.  Meanwhile the 2-cell battery may be non-removable but it's apparently rated for up to 10hrs use, and the PC-Z1 can – according to Sharp – quick-boot in just three seconds.  It's a reasonably pocketable 161 x 109 x 20 mm and weighs 409g.
Even better, it's actually going on sale; Sharp are launching the NetWalker PC-Z1 in Japan on September 25th, where it will retail for 44,800 yen ($479) in red, white or black.  However the bad news quickly follows for any US people interested: thanks to some pesky trade ruling that says the Freescale MS515 can't be sold in the US, there's practically zero chance of seeing it hit shelves there, at least officially. Turns out that's not the case: happily only the chips themselves can't be imported; products using them are fine.