Sharp Mebius NJ70A Gets Video Unboxing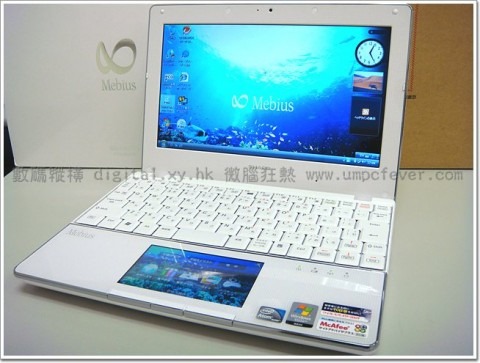 Sharp's Mebius NJ70A is still too rich for our blood – $1,000 or thereabouts is simply too much to pay for a netbook, no matter how slick its touchscreen trackpad - but that doesn't mean we're not interested in lapping up all the information about the distinctive ultraportable that we can.  UMPC Fever have acquired one of the  Atom N270 netbooks and promptly shot a video unboxing.
Unboxing video after the cut
It's not just the trackpad – which is actually a 4-inch optical-touchscreen running at super-crisp 854 x 480 resolution – which makes this netbook stand out physically.  The huge Mebius logo, basically a stylized Möbius strip, certainly stands out on the lid, but it's arguably more attractive than a massive Sharp logo.
Inside, there's an easily accessible Gigabyte WiFi module and Fujitsu 160GB hard-drive; the RAM also looks pretty easy to reach too.  We're just hoping that Sharp see sense and drop the touchscreen into their more grown-up ultraportables; pair it with something other than an Atom N270 and a somewhat more realistic price and you'd have a real winner.