Sharp Mebius NJ70A imports priced at $1k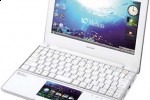 Sharp's Mebius NJ70A could be hitting US shores sooner than we expected, with the news that importer Dynamism have listed the netbook.  The Mebius has a special multitouch-capable LCD touchscreen trackpad, which can be used as a secondary 4-inch display or a way to control media playback, games or other software.
Unfortunately the rest of the specifications don't quite match the multitouch display's promise, with Sharp packing the Mebius with the usual netbook fare of an Intel Atom N270 1.6GHz processor, 1GB of RAM and a 160GB hard-drive.  There's also WiFi b/g and Bluetooth 2.1+EDR, together with a 1.3-megapixel webcam and Japanese-layout keyboard.
OS is Vista Home Basic, which won't be the most joyous of experiences on the Atom CPU, but the admiring glances you'll get in Starbucks may be worth the ponderous wait.  The Sharp Mebius NJ70A is priced at a not-inconsiderable $999, and will ship on June 5th.  Video demo of the NJ70A in action here.
[via Engadget]