Sharp HT-SB500 3.1-channel speaker bar debuts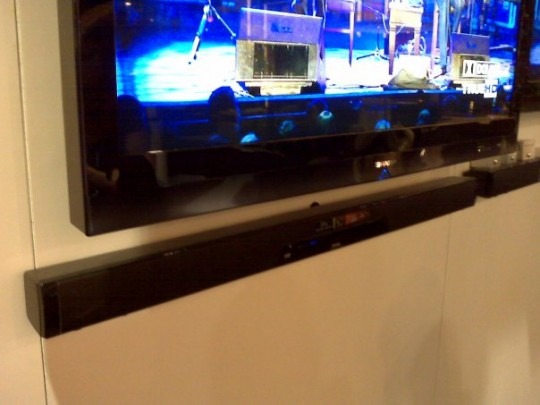 Sharp have thrown a new model into their soundbar range, this time promising 3.1-channel sound versus the more typical 2.1-channel.  The Sharp HT-SB500 squeezes 32W into its slender under-screen form, and uses Dolby Virtual Speaker technology to emulate a 5.1-channel surround-sound system.
It also has new, touch-panel controls and an included remote control, the latter of which can also be used to control a Sharp AQUOS HDTV should you have one.  Connectivity includes both right and left RCA jacks for your primary input, together with a 3.5mm jack for plugging in an MP3 player or similar.  In addition to Virtual Speaker, the HT-SB500 supports DTS, Dolby Digital and Dolby® Pro logic II.
The Sharp 3.1-channel HT-SB500 will go on sale in December, with an MRSP of $349.99.  As for the existing models, the HT-SB200 and HT-SB300, they're already on sale priced at $249.99 and $299.99 respectively, offering 2.1-channel sound.
Press Release:
SHARP® BOLSTERS SOUND BAR LINEUP WITH 3.1-CHANNEL INTRODUCTION

Enhanced Virtual Surround Sound; Touch Panel Technology for Convenience and Flexibility

ATLANTA, September 10, 2009 – Strengthening its line of space-saving, high-fidelity audio systems, Sharp today introduces a 3.1-channel Sound Bar, model HT-SB500. This unit joins Sharp's current 2.1-channel Sound Bars (models HT-SB300 and HT-SB200), offering advanced audio performance and easy setup to enhance home entertainment systems without multiple added components and costs.

The new HT-SB500 houses left and right speakers, a center channel and subwoofer in one stylish, low-profile unit that complements the latest LCD TV designs. A newly-designed front panel control uses Sharp's Touch Panel technology for the ultimate convenience and high-tech feel.

"For consumers who want to take their home entertainment system to the next level without breaking the bank or crowding the living room, Sharp's HT-SB500 provides superior virtual surround sound in a high-style design," said Sean McBride, product marketing manager, audio, Entertainment Products Division, Sharp. "The new 3.1-channel sound bar not only offers fuller, more robust sound than previous models, but also carries a sleek new design with Touch Panel Technology for extreme ease of use."

This 32-watt Sound Bar features digital audio decoding with DTS, Dolby® Digital and Dolby® Pro logic II decoder, as well as Dolby® Virtual Speaker to effectively simulate 5.1 channel surround sound. Dolby Virtual Speaker eliminates the need for a multi-component system with messy wiring by simulating a realistic 5.1 speaker surround sound environment without placing speakers in the front, rear and sides of the room.

The HT-SB500 also incorporates SRS TruSurround HD that virtualizes channels, creating a superior multichannel surround sound effect with deep bass and crystal clear high frequency reproduction. SRS WOW HD Sound on the HT-SB300 and HT-SB200 provides a natural listening experience and a deep, natural bass response. All three models feature adjustable Bass, Treble and Sub level options for a unique surround sound effect without rear channel speakers.

For flexibility and simple setup, all Sound Bars feature dual audio inputs, right and left RCA jacks and a 3.5mm sub mini jack, which allows for a second audio source such as an MP3 player. The models also include a slim remote control that can simultaneously control a Sharp AQUOS® LCD TV, as well as a programmed equalizer and an auto On/Off function. The units can be placed on a TV stand (32-inch class LCD and up) with mounting feet or wall mounted with mounting plates, all included.

Pricing and availability

• The HT-SB500 will be available in December for a Manufacturer's Suggested Retail Price (MSRP) of $349.99

• The HT-SB300 is available now for an MSRP of $299.99

• The HT-SB200 is available now for an MSRP of $249.99