Sharp is sick of square screens, and while circular LCDs are yet to make any sort of significant dent in the market, the company is already looking at Free-Form Display technology that can be cut into any shape. Targeting next-gen digital dashboards in cars, unusual wearables – in the vein of Motorola's circular Moto 360 – among other things, the magic is in how Sharp has integrated the electronics throughout the panel.
Typically, an LCD display would put the "gate driver" – which drives each individual pixel – around the periphery of the panel. Improvements over the past few years have helped reduce its bulk, trimming bezels down accordingly, but not done away with it altogether as Sharp has now.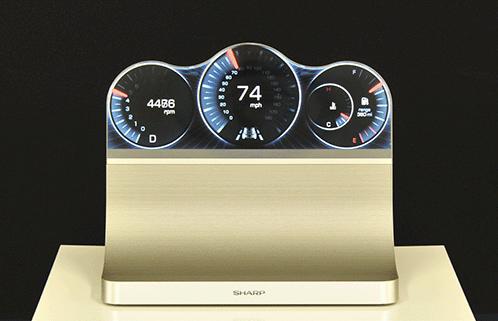 The new Free-Form Display system instead spreads the gate driver's functionality throughout the pixels, chopping the bezel significantly, as well as allowing for non-traditional shapes. Sharp uses a combination of its IGZO panel technology and some new, proprietary circuit design methods to lace together pixels and their drivers.
Sharp isn't talking about any specifics for the system, though it's certainly telegraphing some of its ambitions with the prototype car infotainment display cooked up to demonstrate its new processes. Considering cars like the Audi TT are putting ever more focus on their digital cockpits, with high resolution panels, that doesn't seem like a bad strategy.
However, the potential in wearables like smartwatches is arguably even greater, with the possibility of a display that blends seamlessly into non-oblong form factors.
Sharp says mass production will begin "at the earliest possible date" which is the epitome of vague, and hasn't said if it's working with any specific hardware partners to implement the Free-Form tech. Still, being a key panel provider for Apple, among others, means we could well end up seeing an "iWatch" with an elliptical screen at some point in the future, if Jony Ive so wishes it.