Sharp audio systems include integrated SlotMusic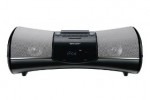 Sharp has really been trying to bring innovation to their products over the last few years. At CES this year they introduced the new BD line of HDTVs with built-in Blu-ray players. Now Sharp has introduced the XL-DH258NH and XL-DH228NH audio systems complete with music integration (not pictured on the right).
These "music systems" come complete with and iPod dock (nothing too big their) and a USB port for "SlotMusic." This iPod dock like many is top-mounted and allows both systems the compatibility to play music and charge all generations of Apple's popular iPod line.
The Sharp XL-DH258NH offers 80 watts output per channel totaling 160-watt while the XL-DH228NH delivers 32-watt per channel. Both systems include the X-BASS System for an added boost of bass when you need it. These music systems are both packed with a CD player compatible with CD-R/CD-RW, MP3 and WMA discs, and an AM/FM tuner with 40-station preset. Sharp XL-DH258NH will be released in June for $199.99 while the XL-DH228NH will release in July for $179.99.