Sharp's Aquos BD Series Include Built-In Blu-ray Players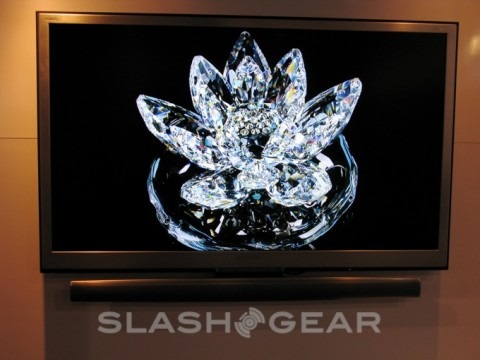 Today Sharp announced the new BD series of LCD TVs that include built-in Blu-ray players. Focusing on the needs of consumers the series will be available in 54" 46" 42" 37"and 32" sizes. This new line will incorporate AQUOS Pure Mode as well as a Superview Panel to enhance the viewing experience.
The HDTVs are all 1080p with 120Hz and have a built-in Blu-ray player so users can basically choose the size they prefer without losing out on specific features. The entire line of AQUOS BD Series LCD TVs will provide an All-in-One Home Theater solution for an amazing high-definition viewing experience. AQUOS Pure Mode has been incorporated into these HDTVs in order to reduce gloss and save energy.
We certainly are excited to see such amazing HDTVs with built-in Blu-ray players. There's still no physical dimension information available yet. The new BD series will cost $2599, $2299, $1899, $1299 and $1099 descending according to size.
SHARP® PREMIERES WORLD'S FIRST HIGH-DEFINITION LCD TV SERIES WITH BUILT-IN BLU-RAY PLAYER

Full line-up of AQUOS® BD Series Provides All-in-One Home Theater Solution for a Paramount

High-Definition Viewing Experience

LAS VEGAS, January 7, 2009 – Strengthening its position as an innovative leader in the LCD TV industry, Sharp today introduces the world's first AQUOS® LCD TV Series with a built-in

Blu-ray Disc TM player, for a convenient all-in-one home theater solution. The Full-HD 1080p AQUOS BD series, which includes the 52-inch class (52-1/32" diagonal) LC-52BD80U, 46-inch class (45-63/64" diagonal) LC-46BD80U, 42-inch class (42-1/64" diagonal) LC-42BD80U, 37-inch class (37" diagonal) LC-37BD60U and 32-inch class (31-35/64" diagonal) LC-32BD60U screen class sizes, combines the ultimate high definition television with the ultimate high definition content format with a side-loading multi-slot for Blu-ray, DVD and CD content. The series offers a single-step operation feature that turns on the TV and activates play when a BD disc is inserted. In addition, the BD series features a newly developed Advanced Super View (ASV) Superlucent panel for a dramatically bright and crisp picture with reduced reflection and a new AQUOS Pure Mode for convenient optimized viewing of Blu-ray titles. A new elegant "AQUOS Blue" design includes a subtle blue accent at the bottom of the frame and a swivel stand for viewing convenience.

"We created this series to offer consumers a product that provides the same high-quality, clear picture they've come to expect from a Sharp AQUOS, but with the added convenience of a Blu-ray player for a unique combination solution that allows playback of the latest HD Blu-ray movies," said Bob Scaglione, senior vice president and group manager, Product and Marketing Group, Sharp Electronics Corporation. "This product is a one-stop, stylish home theater and the built-in side-loading Blu-ray slot is also a space-saver for style-conscious consumers, eliminating the need for a separate box and extra cables."

Superior Image Quality

To realize the full capability of Blu-ray movies, the AQUOS BD Series offers an excellent picture, with the most advanced imaging technology on the market. Sharp's new ASV Superlucent panel applies an ultra-smooth finish that minimizes gloss while intensifying panel brightness and contrast. The AQUOS Pure Mode automatically senses the Blu-ray disc content and intelligently adjusts display settings such as aspect ratio to optimize the movie image. The LC-52BD80U, LC-46BD80U and LC-42BD80U further improve picture quality with Fine Motion Enhanced technology for 120Hz Frame Rate Conversion, a 10-bit panel for Deep Color compatibility and "dejudder" technology that results in the smooth reproduction of film content. All five models offer fast pixel response time, ensuring that viewers never miss a detail of high-definition content. Additionally, Sharp's proprietary Spectral Contrast Engine provides deep blacks and high contrast ratios. This ultimate home entertainment series also offers impressive 176 degree viewing angles, enabling the color reproduction to appear bright and vivid from virtually anywhere in a room.

Extensive Connectivity

These Full-HD 1080p models are very fully featured, with four HDMI inputs on the LC-52BD80U, LC-46BD80U and LC-42BD80U and three on the LC-37BD60U and LC-32BD60U, as well as two component video inputs, all of which are 1080p compatible. The HDMI terminals all have 24p input capability for high-quality Blu-ray video processing. A true high-definition TV, the models house a built-in ATSC and QAM tuner for access to DTV channels. The units also feature an RS-232C input for custom installations and a PC input so the TV serves a dual purpose as a PC monitor.

Pricing and availability

• LC-52BD80U will be available in February; pricing is TBD

• LC-46BD80U will be available in February; pricing is TBD

• LC-42BD80U will be available in January; pricing is TBD

• LC-37BD60U will be available in January; pricing is TBD

• LC-32BD60U will be available in January; pricing is TBD

https://www.youtube.com/watch?v=oLcscmsenpU