Sharp's 8K TV looks incredible (and is incredibly expensive)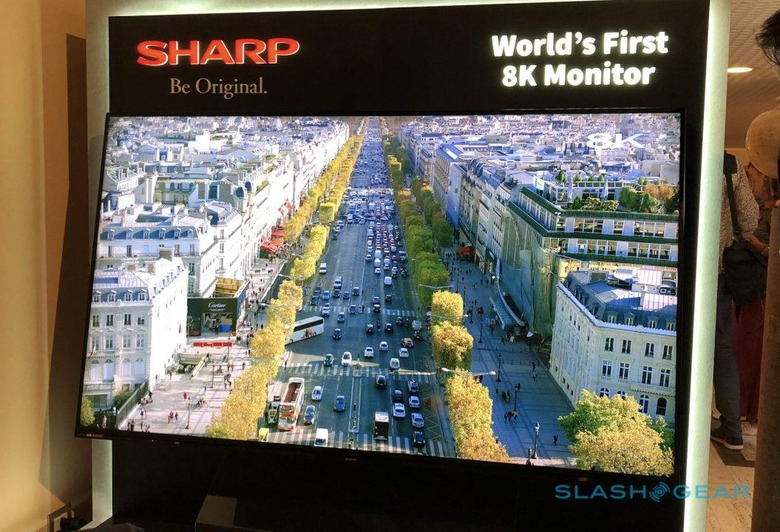 Sharp certainly knows how to make a beautiful 8K television, but it'll cost you to put one on your wall. The Sharp AQUOS 8K TV – otherwise known by its catchy LV-70X500E name – packs a heady 33.2 million pixels, courtesy of its whopping 7680 x 4320 resolution.
What does that look like? Enough, certainly, that most photos simply won't do the 8K TV justice. Sharp had it on display at the IFA GPC 2018 press conference in Rome today, to which SlashGear had been invited, just ahead of its debut at European stores. It also confirmed the not-inconsiderable price tag, which was the sobering part of the whole experience.
First, though, the specs. The HDR-compatible screen measures in at 70-inches, with 1,000 nits of peak brightness. There's local dimming support, with 216 individual zones. Sharp is boasting 86-percent BT2020 color gamut coverage, too.
The design is a little less dramatic than some of the sets we've seen from Samsung and LG in recent years, with a fairly straightforward monitor design that uses a narrow black aluminum frame. Sharp managed to squeeze in a 2.1 channel speaker system with 32 watts of output, though we'd imagine most buyers would have a full surround system in mind to pair the set with.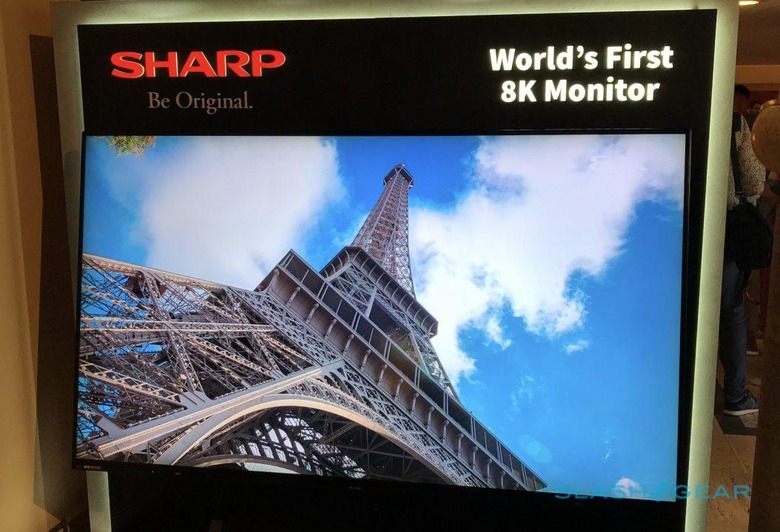 Inputs include four HDMI ports, and a 2K D-sub port. There's also a USB port that can be used to show 4K video or 8K still images. A LAN port allows for IP control.
Of course, an 8K monitor really does require 8K content to be successful. Sharp says that there'll be at least one major European sporting event shot at 8K resolution, and it's currently experimenting with 8K live video. The fact that the company is also supplying 8K cameras helps there, too.
However, the AQUOS 8K TV will also do 8K upscaling, so lesser content will be massaged into something more fitting for all those plentiful pixels. Nonetheless whether in the on-demand ecosystem or broadcast, it's fair to say that we're still some way away from plentiful 8K content. Most services are only just starting to flesh out their 4K Ultra HD catalogs, after all.
You'll probably have to wait to save up for a set, anyway. In Europe, Sharp says, the LV-70X500E will be priced at 11,199 euro when it hits shelves next week. That's more than $13,800, making some of Samsung's recent QLED sets look positively affordable in comparison. No word on when, or indeed if, Sharp will roll out its most pixel-packed of AQUOS sets to the US.