Sewell InjectIR Piggy-Backs Remote Control Signals Over HDMI [Video]

While IR emitters aren't exactly new, neither have they traditionally been either discrete or attractively designed. Sewell's InjectIR kit isn't exactly pretty, but – by squirting an IR repeater signal down the generally unused CEC channel of your HDMI cable – it's easily hidden, meaning wall-mounted HDTV installations can be cleaner than ever.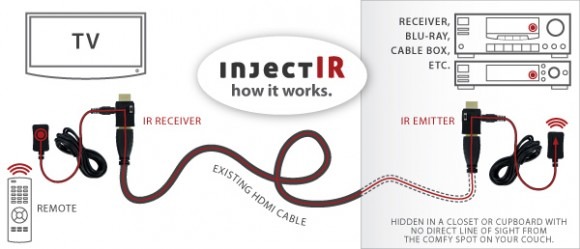 Basically, the IR receiver dongle plugs into an adapter at the end of your HDMI cable, and shuttles the signal down to the IR blaster at the other end. Your stack of A/V equipment – whether cable or satellite TV boxes, TiVo or other DVRs, HTPC or Blu-ray players – can remain hidden in a cupboard or a "node zero" style central termination point, far away from line-of-sight with your remotes, and you don't need to rewire to carry the IR signal separately.
CEC (Consumer Electronics Control) is used by certain A/V companies to allow for remote control signals to be passed between the TV and other components, and generally gets branded by OEMs: Sony calls it BRAVIA Sync, Panasonic calls it VIERA Link and Toshiba calls it Regza Link, for instance. Otherwise the channel goes unused, so InjectIR can take advantage of that spare wiring for its own purposes.
The benefit is that, unlike the manufacturer-specific solutions, you can use your existing remote and pair equipment from different brands. The CEC should be preserved over CAT5 extensions and switchers, and the IR repeater can be moved further away from the emitter adapter with a regular 3.5mm cable. The Sewell InjectIR is available now, priced at $44.95.
[via TechCrunch]